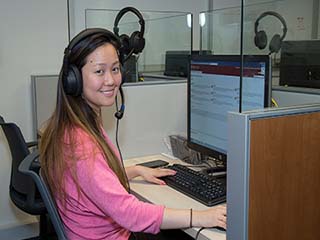 The Language Learning Center at Rose Hill and the Olga Ficarra/Francis J. Morison Language Laboratory at Lincoln Center are state-of-the-art multi-use, interactive digital facilities consisting of self-contained computer stations, all equipped with the most up-to-date audio, recording, and film viewing technology.
A dedicated server houses all the audio and video material that is transmitted to both facilities. Digital audio/recording software allows for traditional listening and recording. Students have the ability to complete their assignments and practice their language in an optimal independent study environment.
Both facilities also feature satellite television programming in Arabic, French, German, Italian, Mandarin, Russian and Spanish available at each computer station.