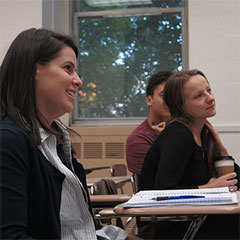 Thank you for your interest in Fordham's Graduate School of Arts and Sciences (GSAS).
Our Admissions Team is committed to advancing the GSAS mission, which fosters the cultivation of knowledge, wisdom, and a deeper understanding of the human condition. We prepare our students for teaching and leadership in a global society, and welcome learners from diverse religious, economic, and cultural backgrounds into full participation in a scholarly endeavor.
GSAS welcomes applications from individuals who have earned or will earn, prior to matriculation in a GSAS program, a bachelor's degree or its equivalent from an accredited institution. Fordham University admits students of any race, color, national and ethnic origin to all the rights, privileges, programs, and activities generally accorded or made available to students at the school. It does not discriminate on the basis of race, color, national and ethnic origin in administration of its educational policies, admissions policies, scholarship and loan programs, and athletic and other school-administered programs.
Admissions and COVID-19
The Graduate School of Arts and Sciences (GSAS) is keenly aware of the current global crisis created by the COVID-19 virus, as well as natural disasters, regional conflicts, and civil unrest. We understand that your situation may pose challenges as you navigate the application process. If you are having any difficulty submitting your completed application, please do not hesitate to contact us at [email protected] or (718) 817-4416. Please note the accommodations below that we are making to support our applicants through our application process.
---
GSAS Application Information | International Applicants | Accomodations for Applicants Affected by COVID-19 and Natural Disasters | Have Questions?
GSAS Application Information
Application/Admission Requirements can vary by degree and program. Before applying, please visit the Graduate Programs page and carefully review the specific admissions information/requirements for your chosen degree program.

Application Deadlines: Consult the Application Deadlines page to ensure you prepare all required materials in advance of your program's application deadline.

Application Fees: The non-refundable application fee is $70. Payment of the fee is required to complete the application and receive a decision. The reapplication fee is $25 for applicants reapplying within 18 months of their original application. Some individuals, such as U.S. military veterans and active duty personnel and participants in certain programs, may qualify for a waiver of the application fee. See the Application Fee Waivers page for information on requesting a waiver of the application fee.

Academic Transcripts: Official final transcripts* confirming prior degree conferral are required for all applicants. However, you may upload unofficial copies of your transcripts to your application while the Office of Admissions awaits receipt of your official transcripts. You should order your official final transcripts from your prior institutions as early as possible to ensure timely delivery.
Transcripts should be sent directly to the Office of Admissions via secure electronic delivery at

[email protected]

. If electronic delivery is not available, please request that your prior institutions submit your transcripts by mail in a sealed envelope to:

Graduate School of Arts and Sciences
Office of Admissions
Keating Hall Room 216
Fordham University
441 E. Fordham Rd.
Bronx, NY 10458

Letters of Recommendation: When communicating with your recommendation letter writers, please provide them with at least one month's advance notice to submit their recommendations. You will enter each recommendation provider's name and email address directly into the online application. They will be notified electronically of your request. Please note: you may submit your application even if the submission of your recommendation letters is still in progress.

Statement of Purpose/Intent: Can be submitted directly in the online application. Requirements for the statement may vary by program. Please see individual program requirements.

Resume/CV: Can be submitted directly in the online application

Official Graduate Record Examination (GRE scores): Due to the impact of COVID-19 on standardized testing, submission of GRE scores is optional/not required for select GSAS programs for the 2022-2023 application. However, some programs are still requiring the GRE. Please see the admissions information/requirements page on the individual program pages to determine if the GRE is optional/not required, required, or not accepted at all for your chosen program. Students who do not submit GRE scores will not be at any disadvantage in the process.

For 2022-2023, GRE scores are not required for consideration for GSAS merit-based financial aid.

Please see our statement on the GSAS Standardized Test Scores page.
International Applicants
Academic Transcripts: All transcripts from previously attended post-secondary institutions MUST be submitted in English, or be accompanied by a certified English translation. Transcripts and credentials conversion information is available on the GSAS International Students page.
English Proficiency Requirements: International applicants whose native language is not English must submit official test score results from one of the following accepted English language competency exams:
Official TOEFL, IELTS, DET, or PTE Academic scores should be sent directly by the testing service to the Office of Graduate Admissions, Fordham University, Graduate School of Arts and Sciences – code #2259. Some applicants may qualify for an exemption of this requirement. Please consult the English Proficiency page for additional information.

Minimum score requirements for most programs:*
| Exam | Score |
| --- | --- |
| TOEFL iBT | 100 |
| IELTS | 7.0 band score |
| DET | 120 |
| PTE Academic | 68 |
*The M.S. in Computer Science, M.S. in Cybersecurity, M.S. in Data Science, and Advanced Certificate on Data Science for Cybersecurity programs will consider applicants with the following scores:
| Exam | Score |
| --- | --- |
| TOEFL iBT | minimum 85 |
| IELTS | maximum 6.5 band score |
| DET | maximum score of 100 |
| PTE Academic | 59 |
Accommodations for Applicants Affected by the COVID-19 Pandemic, Natural Disasters, or War and/or Civil Unrest
Application Deadline Extensions: GSAS Admissions will consider requests for extensions of application deadlines on a case-by-case basis. If you find you need additional time to submit your application beyond the posted deadline for your chosen program, please email us at [email protected] with the subject "Application Deadline Extension Request."
Provisional admission: GSAS applicants may be granted provisional admission in cases where an applicant's file is deemed "admissible" by the faculty review committee, pending receipt of additional required information, such as GRE scores. If you are offered provisional admission, your admission letter will state the provision and how to satisfy it. GSAS Admissions will work with applicants and, where possible, will coordinate with the ETS to assist in obtaining verified GRE scores.
GRE Waivers: For programs requiring the GRE, some GSAS applicants who are not able to submit GRE scores may be eligible for a waiver of the GRE, subject to the approval of the Dean of GSAS. Waivers are based on holistic review and assessment of an applicant's academic background, preparedness for graduate study, and/or relevant professional experience.
To request consideration for a waiver of the GRE for a program that requires scores, please email GSAS Admissions at [email protected] with the subject "GRE Test Waiver Request." Requests will be considered on a case-by-case basis. Admissions may require additional information from you before considering your request. Applicants requesting a GRE waiver will be informed of a decision within 5-10 business days of submitting the request.
Still Have Questions? We Can Help
For all other admissions-related questions, please email [email protected].
Should you require additional assistance completing and/or submitting your online application, please feel free to contact GSAS Admissions by telephone during business hours (9 a.m. – 5 p.m. EST) at 718-817-4416.
You are encouraged to visit Fordham in person and make prior arrangements to meet with faculty members within the department/program to which you are applying. Please contact the program or department directly, or email [email protected] for more information.