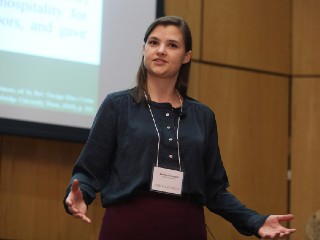 Fordham's Graduate School of Arts and Sciences (GSAS) provides students with the academic resources that propel their research and lead to opportunities beyond graduation.
When you support the GSAS Annual Fund and other GSAS areas, such as special initiatives and fellowships, you create opportunities for future generations of thought leaders. By guaranteeing GSAS has the funds to support student research and learning, we can ensure the success of our students and our institution.
Please make a donation to GSAS today. Your gift will make a world of difference.
To receive more information on the following:
Making gifts by stock
Discussing planned giving
Supporting special initiatives
Establishing a fellowship
Please contact Alexandra Zappala, Senior Associate Director of Development, Arts and Sciences, at [email protected].
Thank you for supporting Fordham's Graduate School of Arts and Sciences.