Eva Badowska, Ph.D.
Dean of the Graduate School of Arts and Sciences
invites you to the GSAS Centennial Lecture
Democracy and Its Discontents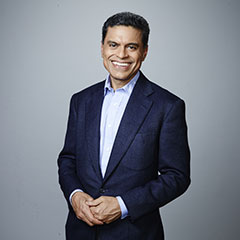 America is a young nation but a very old republic. It is, in fact, the world's oldest constitutional democracy. How did that happen? American democracy is not simply the product of the genius of the founding fathers and mothers, but rather the work of generations. It has had inherent problems and faced daunting challenges, but over the centuries it has endured and expanded its scope and scale. Today it confronts new dangers—economic, technological, and above all political—and must find a way to combat and overcome them. The stakes are high.
Keynote:
Fareed Zakaria, Ph.D. Host, CNN's Fareed Zakaria GPS, Washington Post Columnist, and New York Times Best-Selling Author
Thursday, April 6, 2017 | 5 p.m.
E. Gerald Corrigan Conference Center | 12th-Floor Lounge
Lowenstein Center | 113 West 60th Street | Lincoln Center Campus
Fordham University
Time
Event
5-5:30 p.m.
Reception
5:30-5:45 p.m.
Welcome
Eva Badowska, Ph.D.
Dean, Graduate School of Arts and Sciences

Introduction
Stephen Freedman, Ph.D.
Provost, Fordham University
5:45-6:15 p.m.
Lecture
6:15-7 p.m.
Audience Q&A
7-7:30 p.m.
Refreshments
Please contact Dewis Shallcross, Director of Student Development and Special Events, at [email protected] or 718-817-4420 for more information.