Higher Education Leadership Fellows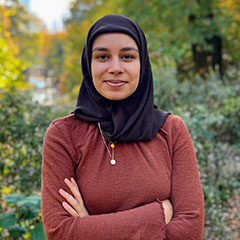 Faaria Fasih-Ahmad (she/her) is a doctoral candidate in Biological Sciences at Fordham University. Her dissertation focuses on identifying potential therapeutics for β-thalassemia. Faaria grew up in upstate NY and received her B.S. in Biological Sciences from Binghamton University. When she is not working on her research, she enjoys traveling and making vlogs of her adventures. As a Higher Education Leadership Fellow (HELF), Faaria aims to highlight available resources and develop initiatives that promote a holistic wellness culture at GSAS.
---
Anwita Ghosh (she/her/hers), an international Ph.D. student (from India) in the English Department, is writing her dissertation on global anglophone modernisms and motherhood studies. Anwita received her B.A. (English) from University of Calcutta and completed her M.A. (English) and MPhil (English) at Jadavpur University, India. She takes an academic interest in modernist studies, post-war literature, critical theory, and Lacanian psychoanalysis. She has tutored at the Rose Hill Writing Center since 2018, and has taught courses in composition and rhetoric, life writing and autotheory. Presently she serves as the Rose Hill Writing Center Coordinator. As a Higher Education Leadership Fellow (HELF), Anwita is invested in community building, nurturing a sustainable and diverse alumni network, and strategizing ways for the grad community to smoothly transition to a life after grad school.
---
Gage Krause (he/him) is a GSAS Philosophy, Ph.D. Candidate and Teaching Fellow. My research is primarily on phenomenology (very briefly, the study of lived experience) as it relates to disability, mental illness, and emotions. I am interested in how the experiences of disability and mental illness can inform our understanding of perception, embodiment, and sociality as well as how identity, institutions, and social norms shape these experiences. I have always been interested in education and coached high school debate before starting graduate school. Being an instructor at Fordham has been a valuable opportunity to continue to refine and explore different approaches to teaching. As a side interest, I've recently started pursuing web development and design and hope (once I'm confident enough!) to contribute to open-source projects in the future.
For me, the Higher Education Leadership Fellowship is a great opportunity to contribute to ongoing efforts to support graduate students' well-being. I'm currently interested in finding ways to improve graduate student professional development since, as the recent GSAS Wellness report showed, career prospects are a vital component to graduate students' sense of well-being. I hope to help GSAS continue to make thoughtful and well-informed decisions about what initiatives and resources can best support graduate students (and their respective departments), regardless of what career path they choose.