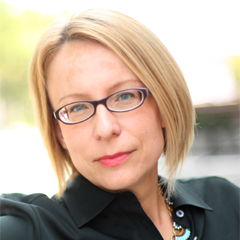 Dear Friends,
It is my pleasure to welcome you to Fordham University's Graduate School of Arts and Sciences centennial website.
Fordham University—which traces its history back to 1841, when St. John's College opened its doors to the first class of six male students—established the Graduate School of Arts and Sciences in 1916. In researching our school's history, I am humbled when I think about our first class of eight men and women who made the decision to trust their future to an untested graduate school, housed in the Woolworth Building in downtown Manhattan, which was, at that time, the tallest building in the world.
From awarding its earliest Ph.D. degrees in English and Philosophy to women in 1921, to welcoming into the ranks of our distinguished faculty WWII-era war refugees such as Victor Hess and Dietrich von Hildebrand, GSAS has never shied away from championing intellectual and social innovation and progress. Our school has pushed boundaries across and within disciplines and, more importantly, trained and mentored faculty and alumni who do the same in their everyday lives. Today, GSAS is proud to be a graduate school that, informed by Catholic and Jesuit values, welcomes learners from diverse religious, economic, and cultural backgrounds into full participation in a scholarly endeavor.
I invite you to explore the individual and collective achievements of GSAS faculty, students, and alumni through our historical timeline, and to join me in reflecting on the truly impressive legacy GSAS has made in our community, locally, nationally, and globally.
Our centennial year will be filled with celebrations and events that honor that community, past and present. I hope that you will join us in commemorating 100 years of intellectual curiosity, courage, and dedication. And I look forward to embarking with all of you upon what is a very bright future for GSAS as it enters its second century.
Happy Centennial, GSAS!
Eva Badowska, Ph.D.
Dean, Graduate School of Arts and Sciences