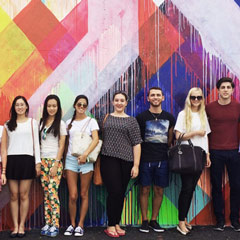 The IALC is a warm and welcoming community of dedicated instructors and administrative staff in midtown Manhattan, just a few steps from Central Park. We are here to help you achieve your goals in mastering English, whether you're preparing to enter a degree program, applying for a new job, or enriching your day-to-day life in New York. Talk to your instructors or stop by the IALC office anytime you have something on your mind. We're here to help you however we can.
We're proud of our team of adjunct faculty whose expertise in TESOL and devotion to their students cannot be overstated. Our instructors are accomplished scholars, world travelers, and long-time New Yorkers who go above and beyond to make sure you get the most out of your experience at the IALC.
Our administrative team is here to help guide you through the process of registering for classes and settling into your new life as a Fordham student. Stop by the IALC office anytime to tell us how things are going. The door is always open, and we love to hear your questions, concerns and suggestions - and don't be surprised if we join you on a field trip or drop in on a workshop!