Peace and Justice Studies Student Profiles
Bailey Barnett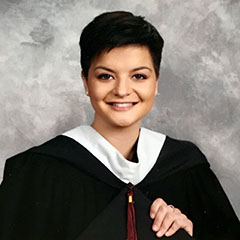 Bailey graduated in 2018, and was extremely active both with campus programming and community projects. Beyond her Peace and Justice minor and English major, Bailey worked on the Bronx African American History project during her junior and senior year, ran fundraising and special events for the Fordham Special Olympics club, joined a volunteer group that helps community residents with tax filings, and work two summers for the Fordham chapter of Jumpstart NYC. This program promotes preschool and early elementary literacy among low-income families, both through individual tutoring and classroom activities.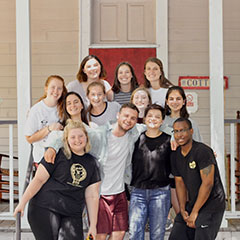 She also worked on job placement and career development for adults with the Madison Strategies Group. Bailey was perhaps best known for her work with our Global Outreach (GO!) programs. In addition to leading service-immersion projects for students focusing on AIDS-justice and LGBTQIA respect, she helped plan GO! trips and fundraise to cover student travel costs. Bailey's many-faceted work at Fordham truly embodies the meaning of Fordham's mission to educate "men and women for others." While there are many ways to devote oneself to social justice and the care of individuals, she provides an exemplary paradigm for students in Peace and Justice. Her advice to current students: "The most valuable thing that you can do is push yourself outside of your comfort zone within the minor. While a lot of Peace and Justice students may be social justice savvy, I think it's important to recognize that there's so much more to learn than just terminology and theories. Take classes that give you real-world examples of the social justice issues and concepts that you've studied, never doubt the importance of historical context, and don't be afraid to sign up for courses that are outside your typical areas of study -- after all, you're there to learn! The beauty of a Peace and Justice minor is that it's pretty much what you make of it!"
After graduation Bailey became a Graduate Research Assistant at The L.P. Cookingham Institute of Urban Affairs at the University of Missouri-Kansas City, where she has conducted research on collective impact programs for children and families experiencing homelessness.
Kiera Maloney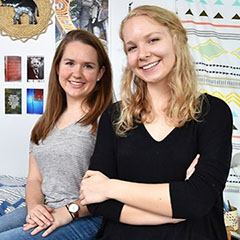 Kiera graduated in spring 2017 with a major in Economics and a minor in Peace and Justice Studies. She is shown here with Alyssa Rose, with whom she co-founded the Radiate Market to showcase jewelry and home goods from the Dominican Republic. In fall of her senior year (Oct. 2016) she completed her third GO! trip. She says, "My greatest interest is in how trade, particularly in food and agriculture, can be conducted in a just way to benefit all parties. Throughout my time at Fordham I have worked with Rosedale Center for Girls and The Bronx Is Blooming with the Center for Community Engaged Learning. Now my main focus is as one of the co-managers of Fordham's St. Rose's Garden. Working in the garden allows me to pursue my passion of food justice as well as partner with Bronx organizations to build a network of community agriculture. Next up, I hope to either enter the non-profit world, working for a fair trade or farm worker's rights organization, or the business world, working on sustainability in the supply chain of a larger company. The Peace and Justice community at Fordham has allowed me to explore these interests and guided me towards a life of meaningful work."
Kelsey Vizzard
Kelsey graduated in spring 2015 with an Environmental Policy major and a Peace and Justice minor. Kelsey was always been passionate about the environment and the issues surrounding it. However, it was her time spent as a Social Justice Leader through the Dorothy Day Center that led her to her true interest, Environmental Justice. Through her volunteer work at organizations like the Northwest Bronx Community and Clergy Coalition and her time spent studying abroad in Australia, Kelsey was able to dig deeper into environmental and social justice issues and develop her passion outside of the classroom. This special interest in justice work is what led her to the Peace and Justice Studies minor. After graduation, Kelsey actually worked for a year for the Day Center at Fordham.