Lorna M. Ronald, PhD
Dr. Ronald was excited to join the office in July 2022 and become part of the Fordham family. In doing so, she continues her work supporting highly motivated students in the New York City area. She joins us from the Albert Dorman Honors College at New Jersey Institute of Technology (NJIT) where she advised highly motivated students and ran the fellowships program. Prior to NJIT, she was an honors advisor at the Macaulay Honors College at Queens College, where she developed programming for first-generation students and co-led the advising council. Dr. Ronald's background is in Chemistry (MChem, Oxford), Science Communication (MSc, Imperial College London), and Science and Technology Studies (PhD, Rensselaer Polytechnic Institute). Both British and American, she considers herself a New Yorker and loves Central Park, the Botanical Gardens, and the Hudson Valley. Read more about her here.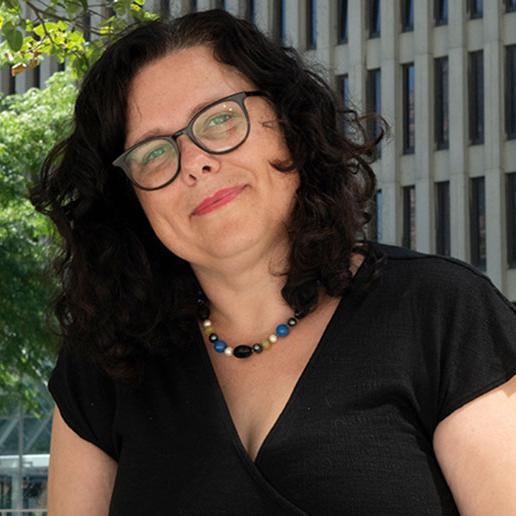 Marisa Iglesias, PhD
Dr. Iglesias earned her PhD in English from the University of South Florida, specializing in Caribbean and 18th-Century British Literatures. She has been advising students on their writing for over fifteen years, both in and out of the classroom. A first-generation college student of Cuban descent, Dr. Iglesias is committed to inspiring a greater diversity of fellowship applicants, working to eliminate imposter syndrome and provide guidance to navigate the application process. A certified health coach, yoga, and meditation instructor, she values self-care and helping others reach their greatest potential. She enjoys plant-based cooking, dancing, and strolling through outdoor markets with her family.
1
Rita DellaValle
As the Executive Secretary, Rita Della Valle welcomes all interested fellowship applicants! Rita joined the Office of Prestigious Fellowships in 2015, and she enjoys being part of an office that helps students with discovering and exploring wonderful opportunities. She is more than happy to assist with any questions. Contact her at [email protected].
Melina Piatti-Chayan
Melina Piatti-Chayan is a sophomore who joined the Office of Prestigious Fellowships in the Fall of 2021. In addition to running the office's social media outreach on Instagram and Twitter, she is the lead writer for the office's blog. Melina enjoys hearing applicants describe how the office has helped them to write superb applications and how the experience has changed them overall. A Political Science major, Spanish minor, and member of Fordham's debate team, Melina plans to attend law school. Outside of the office, she enjoys reading fiction and legal thrillers as well as exploring different types of cuisines at restaurants in the New York City area.
Seneca Ward-Bailey
Seneca Ward-Bailey is a freshman at Fordham University and joined the office in August of 2022. She is currently studying history on a pre-law track and hopes to become a lawyer. She loves the amazing opportunities that the Fellowship Office offers to students and cannot wait to take advantage of them herself in the coming years. Seneca is from Portland, Maine, and in her free time enjoys reading, walking the Botanical Gardens, and exploring the city.