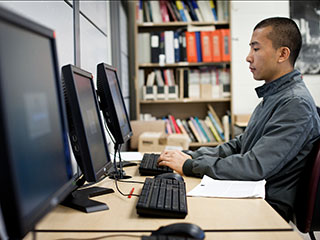 Beginning in the Fall semester, nearly every course at Fordham will adopt a flexible hybrid learning environment. This means that course elements that primarily involve the presentation of ideas or independent learning will be designed ahead of time and delivered asynchronously, for students to access on demand. Interactive components, such as discussions and small group meetings, will take place synchronously, in real-time, and will be taught in intensive, personalized ways.
We believe that, intrinsically, there are benefits to methods of teaching and learning that prioritize interaction and enable students to work through lectures and other forms of knowledge acquisition on their own time, but additionally, they will allow the University to limit classroom capacity and pivot between in-class and remote instruction as needed.
Because creating videos and presentations, designing digital interactive experiences, and moderating online discussions are unfamiliar practices for many instructors, Fordham will provide substantially expanded pedagogical and technical support to all who teach such as:
Ensure that faculty and students (undergraduate and graduate) have appropriately configured technological solutions (or kits) that will allow full participation in courses both in-person and remotely. This may include laptops, cameras, microphones, and appropriate access to the Internet.
Provide streamlined remote access to software solutions via a cloud virtual desktop platform that was previously available only on campus or by download.
Adopt special solutions for courses that are largely experiential in nature such as STEM (lab-based), dance, theatre, and music programs.
Assemble and present a constantly evolving easy-to-use one-stop portal for faculty where faculty can book an appointment with an instructional designer; sign up for a wide variety of workshops; and access rich course development content in the form of podcasts, videos, and printed materials.
Deploy a learning management system that is pre-configured to facilitate faculty course set-up time and enable a cohesive and consistent "look and feel" experience across courses for students (undergraduate and graduate).
Provide appropriate face-to-face classroom technologies, such as cameras and microphones, that facilitate the participation of students (undergraduate and graduate) attending from remote locations, if courses are held on campus.
Provide appropriate classroom technologies that allow for lecture capture, recording, and live streaming of classes that some or entire sections of students are unable to attend or to manage face-to-face and online delivery simultaneously.
Supply well trained and oriented support staff to assist faculty and students (undergraduate and graduate) in making the transition to the FHLE.


Facilitate the creation of course preparation materials and advance research activities with library resource personnel who assist in the identification and use of a variety of resources such as open-access textbooks, digital archival collections, and open data collections.