Local Transportation and Directions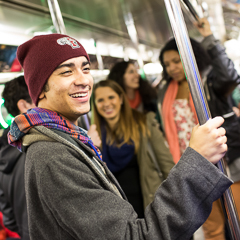 Fordham University's Rose Hill and Lincoln Center campuses are conveniently located near many public and private transportation providers who also provide handicap-accessible travel routes for your benefit (the route should be confirmed before your departure).
Taxi and Car Service is also available throughout NYC. Be advised that passengers should only board a TLC-approved vehicle when taking any livery service.
The Rose Hill campus is home to Fordham College at Rose Hill, the Gabelli School of Business, the Graduate Schools of Arts and Sciences, and Religion and Religious Education. The main entrance is 2691 Southern Boulevard, Bronx, NY 10458. The main switchboard for the Rose Hill campus may be reached by calling 718-817-1000.
The Lincoln Center campus is home to Fordham College at Lincoln Center, Fordham College of Liberal Studies, and the Gabelli School of Business (Graduate and Undergraduate Programs). The Law School, the Graduate School of Education, and the School of Social Service are also based at Lincoln Center. The main entrance is 113 West 60th Street, New York, NY 10023.
Students are advised to take caution when traveling and while riding public transit by minimizing exposure of valuables and staying aware of their surroundings. Fordham Security is available should you need help at any time in NYC by calling: 718-817-2222.