Senior Leadership Awards at Lincoln Center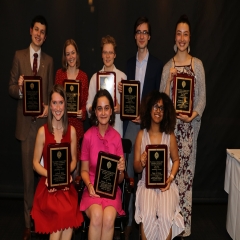 Each year, Student Affairs honors the contributions of the undergraduate senior class by awarding Senior Leadership Awards. Fordham takes time to acknowledge graduating seniors who have made valuable contributions to the community throughout their time as undergraduate students. The Senior Leadership Awards Commitee at Lincoln Center is seeking nominations for exceptional Fordham College at Lincoln Center and Gabelli School of Business at Lincoln Center Seniors.
Nominations
Nominations should be no less than 200 words and highlight the main reasons that the student you are nominating is most deserving of an award. Nominations may be submitted by any member of the Fordham community (faculty, staff, students) and must be submitted online.
Nominees must be a registered undergraduate student in Fordham College at Lincoln Center or the Gabelli School of Business at Lincoln Center. Nominees must have an expected graduation date of February 2023, May 2023, or August 2023.
Nominees will be contacted and asked to submit a copy of their resume to be considered for an award.
The nomination deadline is Monday, March 20, 2023.
Please use your Fordham.edu credentials to log in and submit your nomination via google form.
Nomination Form for Fordham Lincoln Center
If you have any questions, please email [email protected] or call 212-636-6250.
The Awards
Senior Leadership Award
Nominees should have exhibited the ability to lead, organize, empower, and inspire fellow students in our overall efforts to create a welcoming, involved, and inclusive community. Each should possess a high degree of commitment, creativity, innovation, initiative and integrity. As quality leadership is a way of conducting one's self and not merely possession of a title or position, candidates need not have held positions of high visibility.
Journalism Award
The Journalism Award will be given to the senior who has made an outstanding contribution to a Fordham LC student publication in the field of publishing, editing, writing or graphic arts.
St. Alberto Hurtado, SJ Mission, Faith and Justice Award
This award is given to the senior who has exhibited excellence and leadership in exemplifying Fordham's Jesuit mission by living a life of faith that does justice. This student has dedicated his/her time to others through service and social justice work and has taken on leadership roles to help foster the moral and spiritual growth of the Fordham Community. This student has shown enthusiasm, dedication, and compassion when working with others, especially those who are marginalized, disadvantaged, or underprivileged and encourages others to do the same. This student promotes the causes of social justice and spiritual growth in the larger community and securing positive change in the world.