Joseph M. McShane, S.J.
A native of New York, Father McShane entered the Society of Jesus in 1967 and was ordained a priest in 1977. He received both a bachelor's degree and a master's degree from Boston College, and master's degrees in theology from the Jesuit School of Theology at Berkeley in 1977. He completed his doctorate, in the history of Christianity, at the University of Chicago in 1981.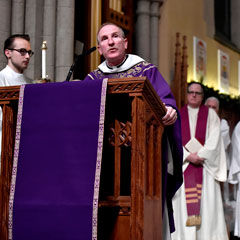 He served as a member of the Department of Religious Studies at LeMoyne College in Syracuse, New York, from 1981 to 1992. He served as the dean of Fordham College at Rose Hill from 1992 to 1998. In 1998, he became president of the University of Scranton, a post that he held until he returned to Fordham in 2003 to assume the Fordham presidency.
Election of a President Emeritus
WHEREAS, after an exceptional 25 year career at Fordham University, first as Dean of Fordham College at Rose Hill from 1992 to 1998 and then as President of the University since 2003, during which time he led one of the most remarkable periods of sustained growth in Fordham's history, Fr. McShane will be leaving Fordham on June 30, 2022;
AND WHEREAS, during his tenure as President, the University notably invested $1 billion in new construction and infrastructure improvements, raised more than $1 billion in donations, and increased the University's endowment to more than $1 billion;
AND WHEREAS, his other accomplishments as the University's 32nd president are too numerous to mention but include the production of balanced budgets every year, including during financial downturns and pandemics; the rise in the U.S. News and World Report rankings from #84 in 2003 to #68; the establishment of the London Center in the Clerkenwell District of London and the Westchester Campus in West Harrison, NY; the increase of endowed faculty chairs from 23 to 71; the recruitment of the University's largest and most diverse undergraduate class in its history this past fall; the increase of financial aid from $78.3 million to $351.1 million; the renewed commitment to anti-racism with the development of the University's Action Plan for Confronting Racism and Educating for Justice; the awarding of 2,121 prestigious fellowships and scholarships to Fordham students, including 158 Fulbrights since 2003, placing Fordham among the top Fulbright producers; and his expert navigation of the COVID-19 pandemic;
AND WHEREAS, this transformative president touched the lives of the members of the Fordham community in a special way with his pastoral care for all in many different and sometimes unconventional ways, ranging from presiding at 19 socially-distanced diploma ceremonies in May 2021 in response to the requests of students and their families to distributing water bottles to parents preparing to leave their children in Fordham's care;
AND WHEREAS, the entire Fordham community will miss his unbridled energy, his bold and ambitious vision for the future of the University, his tireless advocacy for Jesuit education, his intelligence and knowledge of so many things – and of course, his quick wit;
AND WHEREAS, Fr. McShane's influence extended beyond Fordham as he served on many college and university boards, the boards of major higher education organizations such as ACE, AGB, AJCU, and CICU (which he chaired for two terms), New York City Mayoral Task Forces and the New York City Charter Revision Committee, the New York State Forward Advisory Board, and the Board of the Museum of Civil Rights in Harlem;
THEREFORE, BE IT RESOLVED, that the Fordham University Board of Trustees hereby elects Fr. McShane as President Emeritus of Fordham University in recognition of and in appreciation of his outstanding 19 years as Fordham's President which, as he noted in his most recent Stewardship Report "…have been devoted to the tasks of repositioning the University in the world of American Higher Education and raising its national profile." Job well done!