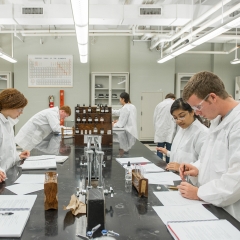 The Chemistry Department, located in John Mulcahy Hall on the Rose Hill campus, offers a major and minor in chemistry, as well as a minor in biochemistry.
Our research faculty investigate a broad range of topics, from nano‑materials to quantum theory, and provide opportunities for motivated undergraduates to participate hands‑on in basic and applied research.
Our program adheres to curriculum standards set by the American Chemical Society (ACS) and offers an ACS certified degree for students pursuing a career in chemistry. The department also actively supports a local chapter of Sigma Xi, the scientific research society.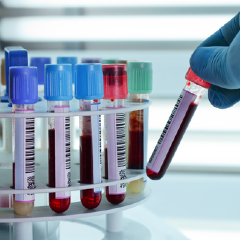 Are you a STEM student interested in pre-health related fields?
Fordham's new Biochemistry Minor combines specialized topics from Chemistry, Biology, and Natural Sciences. It is a highly interdisciplinary minor that will prepare you for a wide range of careers including:
Medicine; Dentistry; Cell Biologist; Biomedical Scientist; Environmental Biochemistry; Biomedical Engineering; Chiropractor; Clinical Biochemist; DNA Analyst; Forensics; Food Sciences; Nutritional Sciences; Medical Laboratory Technician; Pharmaceutics; Cosmetics; Research Scientist and graduate schools.
See the Chemistry Curriculum page or the Academic Bulletin for course requirements.