About the Comparative Literature Department
What do our faculty and students have to say about Comparative Literature?
Olivia M. Cabrera, FCLC '20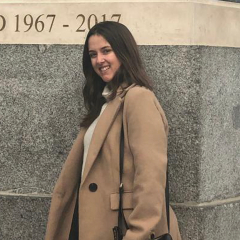 Winner of the 2020 Katie Fraser Prize for "A Look at Cuban Cinema: Filmmakers and Resistance"
What does Comparative Literature mean to you?
For me, Comparative Literature allowed me to explore different interests and the opportunity to combine them into one. As a Comp Lit major, I was able to take classes in a variety of different disciplines and languages. I was able to assess how to incorporate them into my thesis and in further discussion with professors. Without Comp Lit, I do not believe that I would be able to write and commit time to a thesis about film theory and historical research on the Cuban Revolution using both English and Spanish. This major has broadened my horizons and I am truly grateful to have been part of the Comp Lit department in my time at Fordham.
What was the best thing about being in Comp Lit?
The best thing about being a Comp Lit major is the freedom and flexibility that it offers. As Comp Lit majors, we had the best pick when it comes to choosing classes. The cross-listed courses cannot be found anywhere else and if you are someone like me who has a lot of different interests this major is the one for you. The wide array of classes offered allowed me to take classes in Spanish, film, literature, gender studies, and more. With this, there would be not a Comp Lit department without the incredible faculty of professors who are always there to help.
What advice would you give someone considering a major in Comp Lit?
If you are interested in pursuing Comp Lit, I highly recommend it. Take advantage of the extensive cross-listed electives requirement and take a class that is outside of your comfort zone. While taking these classes get to know your professors and make the best out of office hours. Do not be afraid to go up to your professors with a question or to talk further about a topic from their class. The Comp Lit faculty at Fordham is made up of some of the best professors the school has to offer.
What are your post-college plans or goals?
For right now I have relocated home to Miami, FL, and will be working as a production assistant with a local television and film production company. I will be taking a gap year and plan to apply to graduate school for film production or film studies for Fall 2021.
Kathryn Parker, FCLC '19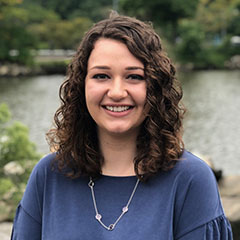 Winner of the 2019 Katie Fraser Prize
What does Comparative Literature mean to you?
To me, Comparative Literature means a kind of academic freedom I would not have gotten anywhere else. Entering college, I had such a wide array of interests within the humanities that I knew I had to pick a major that would allow me the flexibility to take classes across disciplines and across languages. Comp Lit gave me the chance to study multiple languages and multiple disciplines, to write a thesis on film and literature, and even to immerse myself in the more scientific area of psycholinguistics. This major has shaped my entire college experience, and I am excited to continue exploring Comp Lit well into the future.
What was the best thing about being a Comp Lit major?
The best thing about being a Comp Lit major was everything I got to discover along the way. The cross-listed courses in Comp Lit prompted me to take classes in film and linguistics, two areas I would never have thought to explore otherwise; but I ended up enjoyed them so much that I incorporated film into my thesis and did research in linguistics. Of course, I would be remiss if I did not also mention the fantastic professors who teach in the department of Comparative Literature; I truly believe that we get to take classes from the very best professors Fordham has to offer.
What advice would you give someone considering a major in Comp Lit?
First of all, I would strongly recommend it, especially for prospective students who, like me, value academic variety and freedom. It's useful to reach out to current and past students and professors to get an idea of what will be required, and what kind of courses will be available for you to take. If you do decide to pursue Comp Lit, I encourage you to take courses outside of the fields in which you already know you're interested—you may find a new passion for a subject you have never considered before.
What are your post-college plans or goals?
In the coming year, I'm participating in a program called TAPIF (Teaching Assistant Program in France), so I will be teaching English in Rennes, France. In the next few months, I also plan to apply to graduate school in Comparative Literature, and continue the research I began with my thesis at Fordham.
Professor James Kim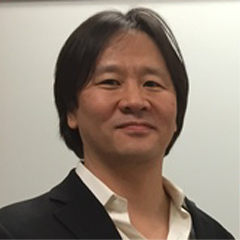 Winner of the 2019 Distinguished Mentor Award
What does Comparative Literature mean to you?
As an academic program, Comparative Literature means the opportunity to teach some of Fordham's brightest, most creative, and most rewarding undergraduates. I like working with COLI majors and minors partly because they are often so intellectually ambitious. For example, one of my former students presented a paper at the national meeting of the American Comparative Literature Association, and he's now in the Ph.D. program in Comp Lit at U Penn. Another wrote a prize-winning essay on the figure of the elephant in western literature--a topic that sounds absurdly broad until you read her careful, patient, judicious treatment of the matter. Still, another wrote a wonderful neorealist play set in New Orleans post-Katrina as a way to dramatize the various affective dilemmas of living in the neoliberal present. Of course, the program also means the opportunity to work alongside some splendid faculty colleagues. Attending reading groups and talks with other Comp Lit faculty is invariably one of the intellectual highlights of my academic year.
What is your current research?
These days, I'm trying to conduct a comparative analysis of racial anger by juxtaposing Homer's Iliad with Lela Lee's celebrated short video "The Angry Little Asian Girl." By mapping the differences between the anger of an elite warrior-hero and that of a raced and gendered minoritized subject, the project opens up a series of broad theoretical questions about effect and social difference, ultimately paving the way for a revaluation of anger as such. Stigmatized as a severe character defect at best and a mortal sin at worst by centuries of stoic philosophy and Judeo-Christian morality, anger is, I argue, simply raw, unadulterated life force, and hence a primary object of what Michel Foucault and Giorgio Agamben taught us to call "biopower."