Fordham University's interdisciplinary Environmental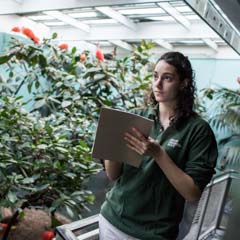 Science program provides students with a solid foundation in scientific principles and analysis, and their application to the environment. The major emphasizes a rigorous curriculum, using an integrated approach that combines concepts and methods across the fields of biology, chemistry, physics, mathematics, and environmental science. Research opportunities exist within each of the contributing departments, as well as at the Louis Calder Center – Biological Field Station and at major collaborative scientific institutions in the New York City area. The major in environmental science is available at Fordham College at Rose Hill and Fordham College at Lincoln Center.

Following a solid scientific grounding in the first two years, upper level students can choose from a selection of specialized courses such as applied statistics, tropical ecology, and environmental chemistry. Environmental Science majors will also gain valuable experience from the required independent science research project on an environmental topic, or an internship at an environmental firm or government agency.

Fordham's interdisciplinary environmental science education will provide numerous options to graduates. Government and private sector opportunities for Environmental Science graduates include careers in environmental conservation or monitoring, ecological system or climate modeling, environmental policy development, education, and environmental consulting. Graduates may be employed in areas such as environmental research, biological conservation, developing environmental regulations, or monitoring compliance with those regulations.

The Environmental Science program will develop critical thinking skills and ensure that students are well-prepared for further graduate or professional study in science, engineering, business, and law.