Santander Scholarship Recipient Testimonials
"Attending the workshop allowed me to explore a diversity of ethical views and perspectives. It was great to be able to discuss projects and practical examples outside of my day to day practice and sector, and then to consider how these scenarios might apply in my own public health study and work in rural and regional Australia. I've already found it useful to reframe professional discussions to explicitly address ethical issues. I'm also in the process of writing a publication directly drawing from the learnings of the workshop. The Faculty who delivered the workshop were engaging, thoughtful and challenging, the topics were interesting and my fellow students brought their own wealth of insights, disciplinary perspectives and animated discussion. I feel privileged to have been a 2015 Santander Universities/Fordham Ethics and Society Scholarship Recipient." Danielle Couch (Australia), 2015 Santander Universities/ Fordham Ethics and Society Scholarship Recipient

"The Ethics and Society course at Fordham University was an intellectually stimulating and fantastic experience. Each segment covered topical issues which were used to challenge the students to think critically about the crucial relevance of applied ethics. I particularly enjoyed meeting fellow scholars from all over the world, and exchanging our ideas and diverse experiences to bear on the issues. It is not everyday you get to discuss and debate a series of fascinating ethical issues with a panel of six experts! The approachable demeanor of the Fordham University staff made the course even more enjoyable. Thank you Santander Universities for allowing me this unforgettable experience!" Tory Hibbitt (U.K.), 2015 Santander Universities/ Fordham Ethics and Society Scholarship Recipient
"For an aspiring academic such as myself, the scholarship allowed me to meet experts and other scholars in different fields who are also concerned about ethics and society. I was able to learn from and about other fields aside from my own, which in turn deepened my understanding of my own discipline, and became the foundation of research that I was able to bring back to the Philippines for my students and fellow faculty to also learn from and use in our courses and studies." Stephanie Puen (Philippines), 2015 Santander Universities/Fordham Ethics and Society Scholarship Recipient
"The Santander Scholarship was a unique opportunity to participate in the Workshop Theories and Applications in Contemporary Ethics. To spend one week at Fordham University and to prepare reaction papers gave me the chance to plunge into the philosophical and ethical discussions in America. Without doubt, the program has a lasting impression on my academic history and deepened my enthusiasm for practical philosophy. During the workshop, I had the chance to prepare a paper on palliative care in Germany. In doing so, I could not just focus on ethical questions in my own country, but also bring them into discussion in an international auditory. This helped me enormous for further research in that area. I am very thankful for this program." Stephan Hecht (Germany), 2014 Santander Universities/Fordham Ethics and Society Scholarship Recipient
"Being a clinical researcher, this training has opened up my eyes to issues related to participant recruitment for HIV/AIDS clinical trials research. The Santander Universities/Fordham Ethics and Society educational experience gave me the opportunity to be a member of an institutional ethics committee for human research in India and I was recently selected by the Federal Government of India to serve as a member of a new drug trial approval committee. This experience provided me with an opportunity to be involved in community engaged in clinical research, which has been a challenging and rewarding experience." Arun Talukdar (India), 2014 Santander Universities/Fordham Ethics and Society Scholarship Recipient
"Through the Santander Universities/Fordham Ethics and Society Scholarship, I was able to gain in depth knowledge about ethics (to which I hadn't previously been exposed). This enabled me to play a pivotal role in young people's lives, by actively mobilizing them to take ownership of the problems they are faced with, and find solutions to these diverse problems." Charmaine Thokoane (South Africa), 2013 Santander Universities/Fordham Ethics and Society Scholarship Recipient
Recipient Bios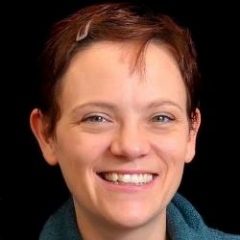 REBECCA BRIONE│ Twickenham, U.K. | Ethics Intensive Workshop, Spring 2015
Rebecca Brione is a MA student in Bioethics and Medical Law at St. Mary's University, Twickenham, UK. She has an undergraduate degree in Natural Sciences from Trinity Hall, University of Cambridge, with a final year specialization in molecular biology. During her time at Cambridge, she carried out research projects at the Medical Research Council Laboratory of Molecular Biology in Cambridge, UK, and at Harvard Medical School, Boston, MA. Following graduation, Rebecca joined the prestigious Civil Service Fast Stream which prepares graduates for senior management roles in Government administration. Over the next ten years, she held a variety of positions across environmental and agricultural policy, leading interdisciplinary teams and working with Ministers, high profile non-Governmental organizations and major UK businesses to develop and implement policy. Rebecca started the study of bioethics after realizing that it brought together all her interests in biological sciences, medicine, the law and public policy. She has a particular interest in issues around reproduction, autonomy and gender and in May 2015 will be publishing her first paper on women's autonomy and Caesarean section. She is currently scoping her MA dissertation on the topic of autonomy and homebirth, and hopes to continue to a PhD in the future.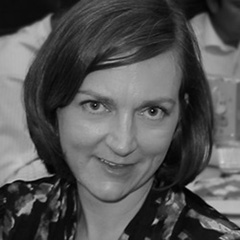 DANIELLE COUCH│ Notting Hill, Australia | Ethics Intensive Workshop, Spring 2015
Danielle Couch has a Master of Public Health (MPH) and is currently is a PhD candidate with Centre for Ethics in Medicine and Society at Monash University in Australia. During her MPH Danielle undertook research into online dating, sex and risk, using online qualitative data collection methods. Her PhD research uses sociological perspectives to explore how health issues (particularly body weight) are portrayed in contemporary popular Australian media. An area of emerging focus in this research is the relationship between public health programs, data and surveillance, and media. Danielle's professional experience includes setting up a consumer-focused research unit for Arthritis Victoria, a state-based peak musculoskeletal organization. She also spent a number of years working in the development and delivery of online health programs, including the analysis of large data sets collected through online health risk appraisals. Danielle currently works in a program for people with severe and persistent mental illness and complex service needs, with her focus being on system reform projects around homelessness, consumer and carer participation, rurality, concepts of recovery and stigma-reduction. Danielle is a peer-review for a variety of health and internet/new media journals.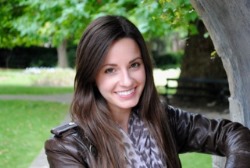 TORY HIBBITT│ Kent, U.K. | Ethics Intensive Workshop, Spring 2015
Tory Hibbitt completed her Baccalaureate of Arts Honours in Philosophy at Queen's University, Canada, in 2011. In 2010 she was awarded the opportunity to study at Keio University in Tokyo, Japan. It was throughout her philosophy degree that she acquired an interest in ethics, particularly pharmaceutical ethics. Having a background in philosophy, the 'critical law school' at the University of Kent provides the ideal academic environment for Tory to study law. The critical approach favored by Kent Law School allows for her to combine her analytical skills and preference for ethics and philosophical enquiry with the study of law. Tory completed her LLB at the University of Kent with First Class Honours in July 2014. Having been awarded an International Scholarship for Postgraduate Students by the University of Kent, Tory is happy to be continuing her studies in pursuit of an LLM, specializing in Medical Law and Ethics with a particular interest in end-of-life issues.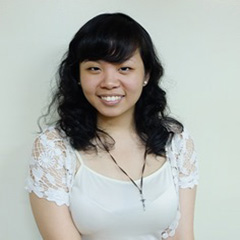 STEPHANIE ANN PUEN│ Manila, Philippines | Ethics Intensive Workshop, Spring 2015
Stephanie Ann Puen graduated from the Ateneo de Manila University with a Bachelor of Science in Management Engineering and a minor in Financial Management in 2012. She worked under the Ramcar group of companies, a group of companies in the Philippines that include KFC, Mister Donut, Tokyo Tokyo, Bigoli, Stickhouse Gelato, and Motolite, as an analyst under the corporate planning department. She handled all the concerns of the international markets for Motolite as well as possible acquisitions and external projects. She is now a faculty member of the Department of Theology at the Ateneo de Manila University, having graduated with a Master of Arts in Theological Studies in 2015. Wishing to bridge theology and business, her two passions, she teaches moral theology and ethics to undergraduate students and religious education to graduate students of the university. Her areas of research interest include moral theology, Catholic social thought, business ethics, design thinking and theology, comparative theology, feminist theology, and queer theology.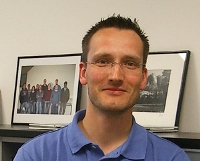 STEPHAN HECHT │ Rosenheim, Germany | Ethics Intensive Workshop, Spring 2014
Stephan Hecht traveled from Rosenheim, Germany to attend this year's Theories and Applications in May. Mr. Hecht completed his pre-diploma and undergraduate studies at the University of Munich, where he served as the chief editor of the student journal Rundbogen. He is currently studying at Heythrop College in their master's program in Philosophy and Religion. Upon completion of the master's program, he plans to apply for a doctoral degree at Oxford University where he hopes to continue his philosophical and theological studies in the areas of faith and justice. Mr. Hecht's main area of scholarship centers on ancient and medieval developments within the relationship between moral truth, faith and ethical theory, where he hopes to be able to contribute on a widening of the term justice and its deep metaphysical tradition.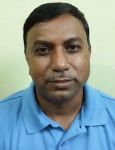 ARUN TALUKDAR │ Calcutta, India | HIV Institute, Summer 2014
Dr. Arunansu Talukdar traveled from Calcutta, India to participate in the 2014 HIV Prevention Research Ethics Training Institute. Dr. Talukdar started his professional career as physician and became involved in caring for AIDS patients. He obtained his PhD in Epidemiology from School of Public Health at University of California Los Angeles in 2007, focusing on sexual risk behavior and STD/HIV scenario among homeless people in Kolkata, India. He has published several articles on the association of circumcision and reduced HIV acquisition, and inconsistent condom use and high prevalence of STDs among homeless people. He completed a World Health Organization (WHO) Fellowship in 2011 and later published articles on coping strategies and quality of life among HIV infected people. After joining Medical College Kolkata, India, he conducted a course on research methodology in STD/HIV in collaboration with Washington University. He is now guiding medical school students who are conducting research on HIV prevention and care and hopes to develop a training center for health research for all categories of staff.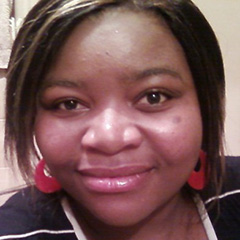 CHARMAINE THOKOANE │ Pretoria, South Africa | HIV Institute, Summer 2012
Charmaine Thokoane is from Capetown, South Africa and was selected to attend the Fordham HIV Prevention Research Ethics Training Institute (RETI) in July, 2012. Ms. Thokoane is currently a project coordinator at the University of Pretoria's Centre for the Study of AIDS and brings a wealth of experience in conducting international HIV/AIDS research in a region hardest hit by the epidemic. In addition to managing research on HIV/AIDS throughout Africa, Ms. Thokoane conducts trainings on HIV/AIDS, gender, pre- and post-test HIV counseling, stigma and discrimination, and sex and sexuality. Ms. Thokoane participated in all RETI lectures and institute activities, individually interacted with our distinguished faculty throughout the ten-day institute, and gain valuable knowledge on research ethics that inform ongoing and future studies at the Centre for the Study of AIDS. Following the institute, Ms. Thokoane joined institute fellows and faculty at the International AIDS Conference in Washington, D.C. Ms. Thokoane is currently implementing a research project mentored by RETI director Dr. Celia Fisher to evaluate the effectiveness of an intervention program designed to increase utilization of sexual health services among at-risk and vulnerable adolescents (description below) and attended the second year of the RETI in July 2014. Her work has been recognized by the Mayor of Pretoria as a model program and the Mayor's Office has agreed to continue to fund the program (please see attached articles about her work).