Master of Arts Degree in Ethics and Society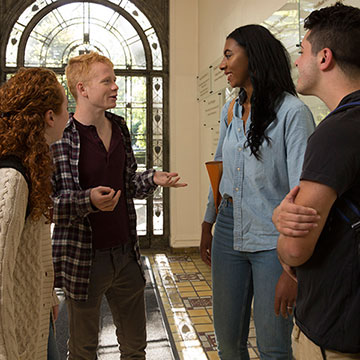 At the Forefront of Moral Debate Integrity in Action
From bioethics to business, from the courtroom to the classroom, the need for ethical decision-making has never been greater. Whether online or in-person, our Master's Degree Program in Ethics and Society in the Center for Ethics Education will provide you with the tools for critical and compassionate engagement with the most pressing ethical issues. During these unprecendented times, our courses address issues of current ethical import including the fight for racial justice and equality.
Both academically rigorous and practical, our cross-disciplinary MA program is grounded in the Jesuit tradition of intellectual excellence—enriched through moral values, religious concerns, and a commitment to creating a caring and just world. You will gain a foundation in the moral frameworks of philosophy, theology, psychology, bioethics, and social justice while observing professionals whose work requires ethical decision-making.
Program Highlights
Areas of specialization to reflect students' current interests and future career goals
Monthly community building events
Weekly hands-on practicum that allows you to shadow professionals involved in ethical decision-making
Contribute to the Ethics & Society blog on ethics-related current news events, scholarship, and contemporary issues
Exposure to national leaders in ethics theory and practice through Center for Ethics Education events
Program Basics
Can be completed in one-year
Part-time study and evening classes available
Curriculum requires 10 courses—two in cross-disciplinary ethics and society (including the capstone), two in moral philosophy, two in moral theology, two in social and natural sciences, and two electives—for a total of 30 credits
Opportunities to tailor curriculum and align electives to your interests and goals
Practicum sites include U.N.-affiliated Global Bioethics Initiative, St. Barnabas Hospital, Harlem United, Families and Work Institute, and the National Jewish Center for Learning and Leadership
Careers
Health care and bioethics
Law and legal study
Ethics compliance and regulation
Research and public policy
Nonprofits and social justice
Medicine
Philosophy
Theology
Psychology
Alumni have also gone on to professional and doctoral programs in humanities, sciences, and law. Learn more about careers in ethics.
For a detailed overview of the interdisciplinary Master of Arts Degree in Ethics and Society, please view our 2020 Ethics and Society Program Introduction.
---
Students and Alumni in the News
Master's Student Valerie Joly Chock '22 recently published a new article, "Do No Harm: Notes on The Ethical Use of Nudges" in the Journal of Design Studies.
Master's Students Valerie Joly Chock '22 and Evelina Jarzynska '22 were awarded Graduate Student Paper Awards and will be presenting at the 31st Annual Association for Practical and Professional Ethics (APPE) International Conference.