Accelerated Master of Arts in Ethics and Society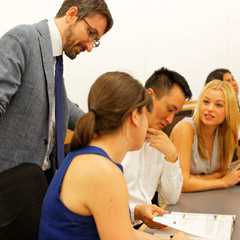 Select Fordham University juniors are eligible to apply for the Accelerated BA/MA in Ethics and Society. Typically, the combined bachelor's and master's degree program is completed in a total of five years. Undergraduate students in one of Fordham's undergraduate colleges with a GPA of 3.2 or better may apply in the spring semester of their junior year.
Course of Study
There are 10 required courses for the Master's Degree in Ethics and Society. Undergraduates accepted into the program may take three courses toward the master's degree in their senior year. These courses "double count" toward the credits required for the bachelor's degree (and, in some cases, major or minor requirements).
Upon completion of the undergraduate degree, the student graduates with his or her senior class and is invited to complete the remaining MA Ethics and Society coursework the following year, fulfilling the requirements for the combined degree. Courses are offered during the summer, fall and spring semesters. The program offers a wide variety of courses across a number of disciplines.
Applying to the Program
The GRE requirement is waived for Accelerated BA/MA Ethics and Society applicants. Similarly, there is no application fee. Students from any Fordham undergraduate college may apply.
To apply, students should begin an online application and provide the following information:
Official transcripts from all undergraduate institutions attended, including Fordham University. The applicant's current GPA must be 3.2 or better.
Two (preferably three) letters of recommendation
Resumé
A statement of intent detailing both your academic aims and interests at Fordham
Financial Assistance for the 5th Year
Only undergraduates with a GPA of 3.5 or better at the time an early-admission application is submitted will be eligible to apply or merit-based financial aid from the Graduate School of Arts and Sciences (GSAS) to support graduate studies undertaken after the bachelor's degree has been earned. View additional information about financial aid offered by the GSAS.
Questions about the Accelerated Master's in Ethics and Society Program
Please feel free to email the Associate Director of Academic Programs, Dr. Steve Swartzer, at sswartzer@fordham.edu with any questions or to sign up for email updates about the program. Each year, the program hosts an open house for prospective interested in the Accelerated Master's Degree in Ethics and Society. Prospective students will receive an email about the open house in February.