Faith and Knowledge in Late Medieval Scandinavia
September 25th Fordham University, Lincoln Center Campus South Lounge of the Lowenstein Building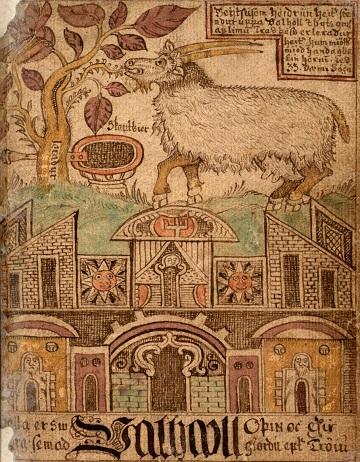 Heiðrún atop of Valhöll, SÁM 66.
1765-1766, Jakob Sigurðsson.
At this seminar we will investigate religious life in Late Medieval Scandinavia, in particular as it relates to how knowledge was perceived and attained. The absoluteness of the dichotomy between what we believe and what we know has always been dependent on context, and in the Late Middle Ages, the difference between the two was undergoing constant negotiation. This is probably due not only to an increase in sources, but also in voices, discourses, and questions actually raised. This seminar is dedicated to listening to those voices, and to trying to discern how they sought to answer questions that have constantly beset the human mind. The seminar is part of a book project.
Program
10 a.m. Welcome and coffee
10:15 a.m. Mikael Males and Karoline Kjesrud
(University of Oslo)
Introduction: Background and aims
10:45 a.m. Elise Kleivane
(University of Oslo)
The Conception of the Bible/Apocrypha in Late Medieval Scandinavia
11:15 a.m. Karoline Kjesrud
(University of Oslo)
The Reception of Spiritual Narratives
11:45 a.m. Short break
12 p.m. Mikael Males
(University of Oslo)
Divine Poetics
12:30 p.m. Martin Chase
(Fordham University)
Strangely Warmed: The Virgin Mary and the Holy Spirit in Lilja 90
1 p.m. Lunch in the Cafeteria Atrium
2:15 p.m. Maria Husabø Oen
(University of Oslo)
Ad montem Calvarie dum essem mestissima plorans...
Physical Presence and Divine Truth in St. Birgitta's Revelaciones
2:45 p.m. Margaret Cormack
(College of Charleston)
Mapping the Cult(s) of Saints
3:15 p.m. Short break
3:30 p.m. Marteinn Sigurðsson
(Ph.D. from Cambridge University)
Bishop Jón Halldórsson of Skálholt and Spirituality in Fourteenth-Century Iceland
4 p.m. Coffee in the South Lounge
4:30 p.m. Stephen Mitchell
(Harvard University)
Spirituality on the Border? Late Medieval Charm Magic at the Extremes
5 p.m. Cathinka Hambro
(University of Tromsø)
A Comparative Outlook: Religiosity and Theology in some Late Medieval Irish Manuscripts
5:30 p.m. Final discussion and further progression
6 p.m. Reception in the Cafeteria Atrium
---
The seminar is kindly co-sponsored by the Fordham Center for Medieval Studies.
Contact: [email protected], [email protected]