Past Symposia and Workshops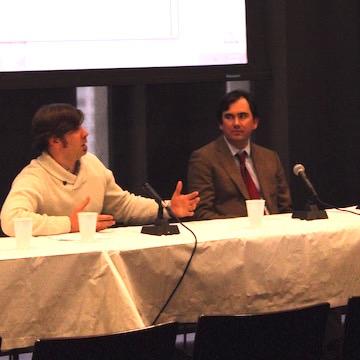 David Pedersen (PhD Program, English) and
Nicholas Paul (Dept. of History) discuss
pedagogical strategies for teaching
maps to undergraduates at the Oxford
Outremer Map Colloquium (April 2016).
Inter-University Doctoral Consortium Medieval Colloquium (April 2016)
What is the Vernacular? (December 2014)
Seventh Interfaces Workshop: International Networks and National Frameworks of Medieval Studies (October 2014)
Textual Interpretation in Medieval Vernaculars (February 2012)
A Symposium on Skaldic Poetry(February 2011)
Publication: Martin Chase, SJ, ed., Eddic, Skaldic and Beyond: Poetic Variety in Medieval Iceland and Norway (Fordham University Press, 2014)


Challenging the Myths of Art History: A Symposium in Honor of Linda Seidel (February 2011)
Past Workshops
The following Graduate Student Workshops and Professional Issues Workshops have been hosted by the Center for Medieval Studies in recent years.
Fall 2017

Your Professional Future
Thursday, October 12, 2017, 2-4 pm
Hughes Hall 313

Digital Day
Thursday, August 24, 2017, 9:30am-3:15pm
Keating 317 and 318

Thursday, January 19, 2017, 2:00 - 4:00 pm
FromThe Page Tutorial With Ben Brumfield
Keating 318

Tuesday, April 11, 2017, 6:00 pm
Compatible Careers for Medievalists
McGinley 237

Friday April 28, 2017, 2:00 - 4:30 pm
Latin Paleography Masterclass with Frank Coulson
Walsh Library 041 (Viewing Room)

Monday, August 29, 2016, 11:30 a.m. - 3:30 p.m.
Digital Day: WordPress and Adobe Photoshop Tutorials for Graduate Students
Faber Hall 455
Lunch Provided!

Wednesday, September 21, 2016, 3 - 4:30 p.m.
CV Workshop Part I: "Where am I now?"
Faculty Memorial Hall 416
Please RSVP to [email protected] and bring a copy of your CV or a laptop

Wednesday, October 26, 2016, 3 - 4:30 p.m.
CV Workshop Part II: "Where am I going?"
Faculty Memorial Hall 416
Please RSVP to [email protected] and bring a copy of your CV or a laptop

Friday, November 4, 2016, 2 - 5 p.m.
Masterclass on Bestiaries with Sarah Kay (New York University)
Walsh Library, O'Hare Special Collections
Please RSVP to [email protected]

Saturday, November 5, 2016
Workshop on manuscript making with master parchment maker Jesse Meyer at Pergamena!
Pre-registration required. To reserve a seat, please email [email protected].
This workshop will be open to graduate and undergraduate students.

Wednesday, November 9, 2016, 3 - 4:30 p.m.
CV Workshop Part III: "How do I get there?"
Faculty Memorial Hall 416
Please RSVP to [email protected] and bring a copy of your CV or a laptop

Thursday, August 27, 2015, 10 a.m. - 3 p.m.
Digital Day: WordPress and Adobe Photoshop Tutorials for Graduate Students
Keating Hall, Rooms 317 and 318
Lunch Provided!

Friday, November 13 - Saturday, November 14, 2015
Biduum Latinum Fordhamense (Latin Boot Camp!)
Campbell Multipurpose Room, Rose Hill Campus
This two day-long Latin intensive program explored the liberal arts in Latin literature from antiquity to the Renaissance.

Friday, February 5, 2016, 10 - 11:15 a.m.
Introduction to Databases for Medievalists: Crusaders' Charters (with Maryanne Kowaleski)
Faculty Memorial Hall 416

Wednesday, February 10, 2016, 9:30 - 11 a.m.
Gender and Religion Seminar: Gender and Medieval Jewish Piety (with Elisheva Baumgarten, the Hebrew University of Jerusalem)
Duane 156, Rose Hill Campus

Tuesday, April 5, 2016, 2:30 - 5 p.m.
Guest Lecture by Barbara Boehm and Melanie Holcomb, curators of the upcoming exhibition on Jerusalem in the Middle Ages
Faculty Memorial Hall 233
Offered in conjunction with Sarit Kattan Gribetz's course on Medieval Jerusalem; co-sponsored by the Center for Medieval Studies.

Friday, April 8, 2016, 10 - 11:30 a.m.
Master class on medieval maps with P.D.A. Harvey
MLL Conference Room, 5th Floor, Faber Hall (Rose Hill Campus).

Monday, April 11, 6 - 8 p.m.
Compatible Careers for Medievalists
McGinley 237

Saturday, April 16, 2016, all day
Workshop on manuscript making with master parchment maker Jesse Meyer at Pergamena!

Monday, September 22, 1 - 3 p.m.
"R" for the Digital Humanities
Brian Reilly (Fordham University)
Keating Hall, Room 318
Co-sponsored by the Digital Humanities Working Group

Wednesday, October 29, 2014, 2:30 - 4:30 p.m.
Spatiality and Digital Mapping
David Wrisley (American University of Beirut)
Keating Hall, Room 318
Co-sponsored by the Digital Humanities Working Group

Wednesday, February 11, 12:30 - 2 p.m.
How to Write and Academic CV
Susanne Hafner (Fordham University)
McGinley Center, Music Room
Refreshments will be served

Tuesday, April 14, 7 p.m.
Compatible Careers for Medievalists
Laura Morreale, moderator (Fordham University)
McGinley, Room 237
Reception to follow

Friday, September 20, 2:30 - 4:30 p.m.
Introduction to GIS for Medievalists
Austin Mason (University of Minnesota)
Keating Hall, Room 318

Wednesday, October 30, 2013, 2:30 - 4:30 p.m.
Using TEI for Textual Mark-up
Yvonne Rode (Westchester Community College)
Keating Hall, Room 318

Wednesday, February 19, 2:15 p.m.
Turning a Graduate Paper into a Presentation and Publication
Advice from: Maryanne Kowaleski, Alex Novikoff and Janine Peterson
McGinley Center, Music Room

Tuesday, April 15, 6 p.m.
Compatible Careers for Medievalists
Panelists will include:

Brian Klinzing, Senior Director, Corporate and Foundation Relations , BrightFocus Foundation (Medical Research Foundation Funding)

Yvonne Rode, Instructor/ Special Collections Librarian, Westchester Community College (Librarianship and Digital Humanities)

Rebecca Slitt, Managing Editor, Choice of Games (Writing, Editing, Instructional Design)

Gilbert Stack, Director of Assessment and Accreditation, Fordham University (University Administration)

Laura Morreale (Medieval Studies) will moderate.
Faculty Lounge, McGinley Center

Wednesday, September 26, 12 p.m.
How to Write an Academic CV
Susanne Hafner (German) and Maryanne Kowaleski (History and Medieval Studies)
Faculty Lounge, McGinley Center
Refreshments will be served

Friday, December 7, 6 p.m.
Digital Humanities and Medieval Studies: Issues and Debates
Eileen Gardiner and Ron Musto (Executive Directors of the Medieval Academy of America)
Faculty Lounge, McGinley Center
Co-sponsored by the Digital Humanities Working Group
A reception follows.

Tuesday, April 9, 6:30 p.m.
Compatible Careers for Medievalists
Panelists will include: Alisa Beer (Librarianship), Lisa Guernsey (Publishing), Maragret Gurewitz Smith (Private School Education), Erick Kelemen (University Administration), Adele Metrakos (Public School Education), and Laura Morreale (University Administration).
Maryanne Kowaleski (History and Medieval Studies) will moderate.
Faculty Lounge, McGinley Center

Wednesday, October 5, 1 - 2 p.m.
Byzantium: Text and Image
Matt Lootens, PhD candidate, Theology
Dealy 110

Wednesday, October 26, 1 - 2 p.m.
Keeping Up with Digital Resources for Medieval Studies
Presentations by: Maryanne Kowaleski (Online Medieval Sources Bibliography), J Patrick Hornbeck (The Latin Works of Wyclif), and Nina Rowe (ARTstor for non-art historians). This workshop is aimed at faculty and teaching fellows since it focuses on pedagogical resources for the classroom.
FMH 215

Wednesday, February 29, 1 - 2 p.m.
Teaching with the Crusades
Nicholas Paul, Assistant Professor, History
Dealy 101

Monday, April 2, 1 - 2 p.m.
Translating the Middle Ages
Jocelyn Wogan-Browne Professor and Thomas F.X. and Theresa Mullarkey Chair, English
Dealy 203

Wednesday, November 10, 2 p.m.
Podcasts, Blogs and YouTube: Teaching the Middle Ages Online
Nathan Melson
Dealy 107

Thursday, December 9, 12 p.m.
Interdisciplinarity
Dr. Richard Gyug, Professor of History and Medieval Studies
Faber Hall, 5th Floor, MLL Conference Room

Thursday , March 24, 12 p.m.
Teaching and Understanding Medieval Technology
Dr Asif Siddiqi, Associate Professor of History
Dealy 101

Thursday, April 28, 1 p.m.
Teaching Medieval Religious Culture Dr J. Patrick Hornbeck, Professor of Theology
Dealy 203

Wednesday, November 18, 1:30 p.m.
Using Medieval Texts in the Composition Classroom
Dr. Olga Burakov
Faculty Memorial Hall 416

Wednesday, March 10, 3 p.m.
Teaching with Primary Sources and Learning Journals
Dr Michael Staunton, Medieval Fellow and University College, Dublin
Keating 214

Tuesday, October 28, 3:15 p.m.
Teaching From the Perspective of the Other
Dr. Kathryn Kueney
FMH 301

Thursday, November 13, 3 p.m.
Teaching Gender
Dr. Susanne Hafner
Keating 124

Monday, December 1, 12:30 p.m.
Teaching Medievalism
Dr. Jennifer Brown
FMH 315

Thursday, February 26, 2 p.m.
Teaching History of the English Language
Dr. Eric Keleman
Dealy 112

Tuesday, March 10, 2 p.m.
Resources for Teaching Medieval Studies: A Workshop
Heather Blatt
Keating 120

Wednesday, April 1, 1 p.m.
Team Teaching in Medieval Studies
Dr. Richard Gyug
Keating 120

Wednesday, April 22, 4 p.m.
Using Images Outside of Art History
Dr. Nina Rowe
Keating 116

Wednesday, February 20, 3:15 p.m.
Teaching Middle English Through Translations
Dr. Catherine Batt
FMH 416

Wednesday, March 5, 3:15 p.m.
Teaching With Primary Sources
Dr. Nicholas Paul
FMH 416

Wednesday, April 9, 3:15 p.m.
Teaching the Middle Ages Through Contemporary Texts
Dr. Katie Little
FMH 416

Thursday, April 24, 12:30 p.m.
Teaching Devotional Literature
Dr. Patrick Hornbeck
FMH 213

Friday, October 6, 2:30 p.m.
Marketing the Middle Ages
Dr. Martin Chase, SJ
Keating 124

Friday, October 20, 2:30 p.m.
Teaching Theory
Dr. Mary Bly
Keating 124

Friday, November 10, 2:30 p.m.
Medieval Art History for an Interdisciplinary Crowd
Dr. Nina Rowe
FMH 233

Friday, November 30, 1 p.m.
Compiling a Teaching Portfolio for an Academic Position
Dr. Maryanne Kowaleski
Keating 124

Tuesday, December 12, 2 p.m.
Teaching Language
Dr. Mary Ramsey
Keating 124