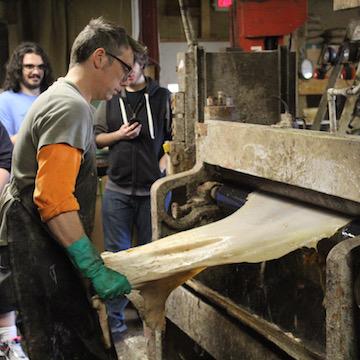 Master Parchment maker Jesse Meyer
of Pergamena uses "the flesher" to remove
the hair from a goat skin during a
parchment making demonstration
(Montgomery, NY, April 2016).
The New York City metropolitan area has much to offer medievalists. Fordham University's Center for Medieval Studies encourages its students and faculty to take full advantage of the NYC resources available to those interested in the Middle Ages, whether through class field trips to the Cloisters and MET, research for a graduate class on manuscript culture at the New York Public Library or J. P. Morgan Library, registration for a grad medieval course at another university through the Medieval Studies Doctoral Consortium, or attending one of the many scholarly talks and events offered in the city.