Music Degrees and Curriculum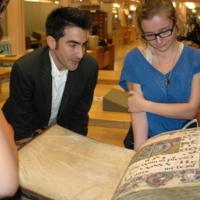 Fordham University offers both a major and a minor in Music. Students are encouraged to explore the depths of their talents while pursuing their degree, all while cultivating their critical thinking and analysis skills through a rigorous Liberal Arts education.
At the conclusion of their studies, our majors and minors will:
Possess strong listening skills, and be able to explain verbally and in prose what they have heard.
Understand theory fundamentals, including rhythm, harmony, and compositional forms.
Understand and describe music as part of systems of culture that give sounds their meanings.
Through experience in faculty-coached ensembles, learn to balance individual effort with communal achievement.
Possess strong critical thinking skills and writing skills, applicable both to music and beyond.
No Auditions Required for the Music Major or Minor