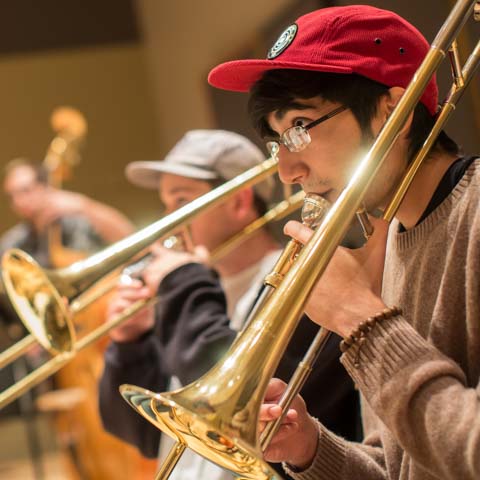 The Department of Music plays a vital role in the intellectual life of Fordham University's undergraduates, teaching students necessary skills to analyze and appreciate non-verbal modes of expression. Music History courses provide overviews of European and American musical culture, with special courses on non-western traditions. For more information, please contact us at [email protected] or see our Faculty and Staff.
Fordham offers a rich musical life to students that includes:
Student performance opportunities
Concerts and campus musical events
A music major and a music minor
If you major in music at Fordham, you will find an intimate program with:
Small classes with high student participation
Many opportunities to work closely with faculty
Opportunities for internships in New York's rich musical world
Opportunities to take extra classes in the Juilliard Evening Division
---
We acknowledge that Fordham University occupies the unceded land of the Lenni-Lenape and the Wappinger Peoples. As a community dedicated to the ideals of Jesuit education, Fordham aspires to show appreciation, respect, and concern for all Peoples of this land. We acknowledge the long and complex history that has brought us to reside on this land, and we seek to evaluate the ongoing effects of settler colonialism and our participation in that process. We remember the Indigenous Peoples' connection to this region and appreciate the opportunity to live, learn, and pray in their traditional homeland. We honor the Lenape Elders and other Indigenous Caretakers of these lands and waters before us, the Indigenous Peoples today, and the generations to come.
Follows Us on Instagram
View this profile on Instagram