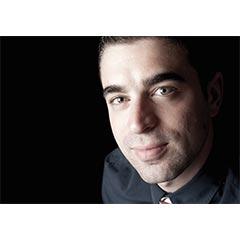 Associate Professor of Music
Faculty Memorial Hall 445
Fordham University-Rose Hill Campus
441 E. Fordham Road
Bronx, NY 10458
718-817-0006
[email protected]
Office Hours are by appointment.
Education
B.M. Ithaca College; D.M.A. University of Maryland
Specialization
​Composition, Theory, and Jazz
​Biography
Nathan Lincoln-DeCusatis is a jazz and classical composer whose music encompasses a wide variety of media and styles including his jazz piano trio MOB RULE, the 10-piece improvising ensemble Micro-Orchestra, and classical pieces for orchestra, sinfonietta and chamber ensembles with a special emphasis on music evoking natural landscapes and wilderness spaces. His music has been described in Gramophone as "a dazzling, often momentous slice of life…" All About Jazz calls him "a musician that has absorbed the stylistic vocabularies of the greats and distilled them into his own personal approach both muscular and lyrical."

His music has been performed by The Utah Symphony, The National Orchestral Institute Philharmonic, The Chesapeake Orchestra, Inscape Chamber Orchestra, The Atlantic Reed Consort, Balance Campaign, Corvus, and by members of the St. Louis, and National Symphony Orchestras. In June, 2021 violinist Madeline Adkins gave the premiere performance of his violin concerto The Maze under the baton of Marin Alsop at the Filene Center at Wolftrap. Since 2015 he has served as composer-in-residence for the Pikes Falls Chamber Music Festival in Vermont, in 2018 he was the inaugural composer-in-residence for the Jackson Hole Chamber Music Festival in Wyoming. Awards and accolades include a 2019 New Music USA Project Grant, an American Music Center CAP award, the Walsum Prize, an Atlantic Center for the Arts residency under composer/musician Henry Threadgill, and the Ithaca College Smadbeck Prize.

His music was released on the Inscape Chamber Orchestra's Grammy-nominated release Sprung Rhythm on the Sono Luminus label, and his chamber symphony was released on Inscape's 2014 record American Aggregate. As a jazz pianist he has performed at several venues in New York City including ShapeShifter Lab and Club Bonafide, and he has released two jazz LPs: Micro-Orchestra a chamber jazz collaboration with saxophonist Kurtis Adams, in 2015; and MOB RULE, his piano trio album, in 2018. Nathan holds degrees in composition from Ithaca College (BM) and the University of Maryland (DMA). He is currently Associate Professor of Music at Fordham University where he has taught since 2014 developing new classes in music theory, jazz, and music production.
Music Theory I and II
Music Production
Jazz Improvisation

Listen to recordings and view scores at: