Psychology Undergraduate Program
Learn the fundamentals of psychological sciences and make positive changes in our community.
Our undergraduate program prioritizes critical, scientific thinking, teaching you to analyze psychological behavior and processes. We emphasize five primary goals in your undergraduate education:
Gain knowledge in key concepts, principles, and themes in psychology
Engage in scientific inquiry and critical thinking using integrative thinking and problem solving
Promote ethical and social responsibility that enhances the greater community
Demonstrate effective oral and written communication skills
Develop meaningful professional direction for life after graduation
To achieve these goals, we have developed a common, comprehensive, and structured baccalaureate curriculum that exposes you to the essential content areas of psychological science. From our rigorous program, you will learn to distinguish observations from conclusions, synthesize the basic and applied aspects of psychology, evaluate research methods, and speak and write clearly in the discourse of the discipline.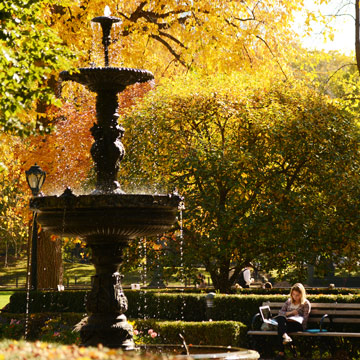 Your undergraduate studies will culminate in your senior year with your capstone project, where you will be challenged to expand your acquired knowledge base within psychology and in relation to other disciplines.
Through classroom instruction, advising, and supervision of student research experiences, you are challenged to explore questions of values and ethics. As a member of our department, you will witness our sensitivity to cross-cultural differences and cultivate a similar sensitivity in your research and practice.
As a member of our department, you join a community of students eager to learn about the multiple applications of psychological science to the service of others, especially those whose human dignity is most threatened in our society. You will likewise be mentored through service opportunities, which integrate your knowledge of psychology--its processes and applications--with your own developing values and beliefs.
PEER Tutoring Program
The Psychology Department is pleased to announce the launch of the Psychology Education & Enrichment Representative (PEER) Tutoring Program!
PEER tutoring services are:
open to all Fordham students
available at Rose Hill and Lincoln Center (subject varies by location)
free of charge
Tutoring is available for courses including Biopsychology, Foundations of Psychology, Statistics, and Research Methods.
To schedule a tutoring session, sign in to the portal, go to your "Student" tab, and scroll down to the Student Success Collaborative (SSC). Once you've logged into the SSC page, click "Schedule Appointment" and select "Tutoring" from the menu to schedule your session!