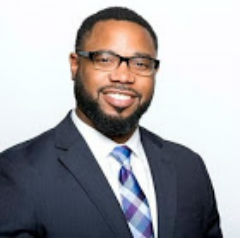 General Information
441 East Fordham Road
Duane Library 153
Bronx, NY 10458
Email: [email protected]
Prof. Burnett is a native of Gulfport, MS. Burnett earned his PhD in Systematic Theology with honors from Duquesne University, and his master's degree in Religious Studies from Loyola University New Orleans. He previously taught within the Africana Department and Balfour Scholars Program at the University of Notre Dame. His area of study focuses on the sonic, spatial, and embodied realities of the Christian imagination. His latest text, Decolonizing Revelation: A Spatial Reading of the Blues, takes up these realities with regards to the American music genre known as the Blues. Burnett's text exposes the blues as an epistemic/cosmological framework that works to delink the Christian imagination of revelation, which is God's self-disclosure in history, from oppressive foreclosures within nationalism, Christian denominations, race, class, sexuality, and ethnocentrism. Burnett's constructive theological approach to systematics looks to expose the theological insight of people groups that respond to domination through the creative use of cultural production. He has shared his insights on panels organized for the World Forum for Liberation Theology, the American Academy of Religion, and the Ecumenical Association of Third World Theologies. His current course offerings are Faith and Critical Reason and Spirituals, the Blues, and African American Christianity.

Ph.D., Systemic Theology Duquesne University Pittsburgh, PA

M.A., Religious Studies, Loyola University New Orleans, LA

B.A., Biology, Xavier University of Louisiana New Orleans, LA

Professor Burnett's research interests include Liberation Theologies, Decolonial Theologies, the theory of coloniality, Sound Studies, the Blues, and African American Studies.

His current research projects explore the sonic and spatial dimensions of theological reflection. Burnett is particularly interested in how the Blues, hip-hop, spirituals, gospel, and jazz reimagine, God's self-disclosure in history, and the implications that these reimagined perspectives have for life and living in ecclesial, political, and social spaces.

Decolonizing Revelation: A Spatial Reading of the Blues. Lexington Books/Fortress Academic, 2018.

"The Blues-Black Folk Blues: Blues Epistemology and the Quest for Trans-Plantational Humanity," In Decoloniality and Justice: Theological Perspectives. Edited by Jean-Françios Roussel, Editoria Oikos, 2018.

"Unsettling Blues: A Decolonial Reading of the Blues Episteme." In Beyond the Doctrine of Man. Edited by Kristien Justaert and Joseph Drexler-Dreis, Fordham University Press, Forthcoming.

"Engaged Pedagogy: A Theological Interpretation." Voices XXXVI, no. 1 (2013).