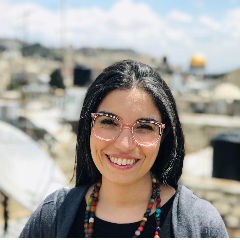 Associate Professor
General Information
Department of Theology
Rose Hill Campus
441 East Fordham Road
Bronx, New York 10458
Email: [email protected]
Sarit Kattan Gribetz is an associate professor in the Theology Department at Fordham University. Her areas of research and teaching include rabbinic literature, the history of Jews in the Roman Empire, the city of Jerusalem, conceptions of time and time-keeping, and gender and sexuality. Sarit received her B.A. and Ph.D. from the Religion Department at Princeton University, studied Talmud and Archaeology at the Hebrew University of Jerusalem as a Fulbright Fellow, and served as a research fellow at the Israel Institute for Advanced Study and the Einstein Center Chronoi in Berlin.

PhD - Princeton University
MA - Princeton University
BA - Princeton University

My first book, Time and Difference in Rabbinic Judaism (Princeton University Press, 2020, National Jewish Book Award in Scholarship), examines how rabbinic texts use time to define Jewish identity. In the book, I analyze rabbinic timekeeping vis-a-vis Roman and Christian practices and explore as well constructions of gendered and divine time in the rabbinic corpus. In a series of articles, I have published on additional aspects of time and temporality in antiquity, including calendars, festivals, the Sabbath, philosophical texts, gender, and the history of scholarship. I continue to work on the history and interdisciplinary study of time, both in antiquity and in later periods.

Currently, I am researching the gendered history of Jerusalem, approaching the topic from two angles. The first project studies the life and legacy of the first-century Queen Helena of Adiabene, a royal figure from northern Mesopotamia whose time in Jerusalem is discussed prominently in the writings of Josephus Flavius, the rabbinic texts, early Christian writings, and medieval sources, and whose modern reception is just as fascinating as the ancient. The second project is titled Jerusalem: A Feminist History, and it seeks to retell the entire history of Jerusalem, from our earliest archaeological sources to the contemporary, with a focus on the city's women and from a feminist historical lens. Both these book, under contract with Princeton University Press, have allowed me to spend time in Jerusalem's streets, archives, libraries, museums, and with the city's diverse communities.

A third area of my research focuses on a set of satirical Jewish texts from the medieval period called Toledot Yeshu, which tell the story of Jesus' life from a Jewish (and anti-Christian) perspective. In my articles on this corpus of texts, I am interested in the use of parody in religious polemic, the literary and cultural consequences of interreligious tension, the dynamic between oral and written transmission, the portrayal of motherhood, and the history of Jewish representations of Christianity.

I have co-edited several volumes on Jewish and Christian antiquity, including Genesis Rabbah in Text and Context (2016), Jewish and Christian Cosmogony in Late Antiquity (2013), and Rabbis and Others in Conversation (2012), and have published on additional subjects, including the reception of Talmudic texts in South Korea, the intersection of gender and ancient textual transmission, travel practices, and conceptions of holiness.

In addition to my scholarship in the history of religion, I also regularly publish essays about pedagogy, with a focus on active learning, creative assignments, and approaching ancient material through contemporary technologies. My pedagogical essays can be found here.

Two interviews with Sarit about her research can be found here and here; her online essays about pedagogy can be accessed here; many of her other publications can be found here.

Time and Difference in Rabbinic Judaism (Princeton University Press, 2020). For an overview of the book, click here.

My articles, book chapters, and online essays can be found here: https://fordham.academia.edu/SaritKattanGribetz.

For a pdf of any of my articles, please email me at [email protected].