Spring 2022
J. Patrick Hornbeck, Ph.D., Interim Dean of the Graduate School of Arts and Sciences, invites you to the Gannon Lecture
Monday, April 4, 2022 | 6 p.m.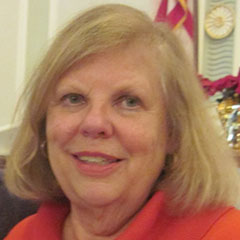 From Trauma to Disability:
Examining Our Cultural Values
Marilyn Martone, Ph.D.
This presentation will examine what it is like to have trauma end life as you know it and then be processed through a fragmented health-care system that focuses on acute care. It will examine the rehabilitation journey and, finally, the world of disability. One cannot go on this journey without recognizing the role that our societal values play in marginalizing persons with disabilities. This journey is, at its core, a fight over who counts as a "productive" person, what values determine the allocation of resources, and how cultural attitudes toward vulnerability affect both the caregiver and those who are cared for. Two models of personhood are presented and the consequences of each are explored. How we treat the most vulnerable among us highlights who we are as a society.
12th-Floor Lounge; E. Gerald Corrigan Conference Center
Lowenstein Center | Fordham University | 113 W. 60th St. | NYC
Please check back in the coming weeks for information pertaining to registration.
Please register by xxxxx, 2022
Past Lectures
Peter Georgescu, Chairman Emeritus, Young & Rubicam.

Peter's lecture, "Capitalists, Arise," addressed income inequality; it can be viewed in his August 7, 2015, New York Times opinion piece, "Capitalists, Arise! We need to Deal with Income Inequality," and the August 12, 2015, follow up "Capitalists Arise!: Q&A with Peter Georgescu."

Learn more about our esteemed speaker at The Constant Choice

Hugh Locke, co-founder and president of Smallholder Farmers Alliance and author of The Haiti Experiment.

The Haiti Experiment: Development Breakthroughs that Could Change the World

Ambassador Anne Anderson, permanent representative from Ireland to the United Nations and newly appointed representative to the United States.

Ambassador, in Gannon Lecture, Shares Insiders View of U.N. Elections

William Antholis, PhD, Managing Director, The Brookings Institution and Senior Fellow, Governance Studies Program at Brookings

Fractious Federations: Why China's Provinces and India's States Matter

Kamal Y. Azari, PhD, GSAS '88 and John Entelis, PhD, Professor of Political Science and Director of the Middle East Studies Program at Fordham University

Sandstorm: Interpreting the New Middle East and North Africa

Ellen M. Hancock, GSAS '67, Former Chairman and CEO, Exodus Communications

Progress in Corporate America: Diversity and Governance | A Personal Perspective

Susan Davis

The Case for Investing in Women: 40 Years of Perspectives from the World's Largest NGO

The founder, president and chief executive officer of BRAC USA, an international organization that works to empower people and communities in situations of poverty, illiteracy, disease and social injustice. A pioneer in developing holistic approaches to address complicated social needs, Davis has introduced innovative development approaches to improving the health, wealth, and well-being of the poorest women and their families in Africa and Asia. She is the co-author of Social Entrepreneurship: What Everyone Needs to Know (Oxford University Press, 2010) and a dynamic, engaging speaker who explores modern solutions to timeless issues. Davis champions investing in women to create dramatic, positive and long-term impact on entire communities.

Edward E. Conway Jr., MD, GSAS '80

Chris Lowney, FCRH '81, GSAS '81

Could St. Ignatius Loyola's Spiritual Exercises have spared us the 2008 Wall Street Crash?

A former Jesuit seminarian, Chris Lowney served as a managing director of JP Morgan and held senior positions in New York, Tokyo, Singapore and London before leaving the firm in 2001. He is the author of Heroic Living (2009), A Vanished World: Medieval Spain's Golden Age of Enlightenment (2005) and the bestselling Heroic Leadership: Best Practices From a 450-Year-Old Company That Changed the World (2003).

Archbishop Nicholas Girasoli, Apostolic Nunio to Zambia and Malawi

Minority Rights and Globalization: A Compromise Approach

John F. Disterhoft, PhD, GSAS '68 and '71, is the director of the Northwestern University Interdepartmental Neuroscience Program and the Ernst J. and Hattie H. Magerstadt Memorial Research Professor of Physiology at the Northwestern University Feinberg School of Medicine.

Nicholas G. LaRocca, PhD, GSAS '72 and '81, Vice President,Health Care Delivery and Policy Research, National Multiple Sclerosis Society will provide a translational comment, using the example of MS,a neurodegenerative disease associated with normal aging.

Learning in Young and Aging Brains: A Neuroscientific/Psychological Perspective

Rabbi Alan Brill, PhD, GSAS '94

Is There Still Mystery to Mythicism after Modernity

Rabbi Brill is also the author of Thinking God: The Mysticism of Rabbi Zadok HoKohen of Lublin and is completing a book titled Many Nations Under God: Judaism and Other Religions. His specialties are Jewish mysticism, spirituality and thought, and contemporary religion.

Dr. Paul Chu, PhD, GSAS '65, DSC '88

An Odyssey of Discovery

Martin Matuštík, PhD GSAS '91

The Scarcity of Hope: Post Secular Mediations on Radical Evil

Peter Quinn, GSAS '75

Writes of Passage: Confessions of a Bronx Irish Scribbler
The Gannon Lecture Series, inaugurated in the fall of 1980, brings distinguished speakers to Fordham to deliver open lectures on topics of great general or public importance that fall within their fields of expertise. Fordham alumni endowed the series to honor the Rev. Robert I. Gannon, SJ, president of Fordham University from 1936 to 1949, who was renowned as an outstanding popular speaker.