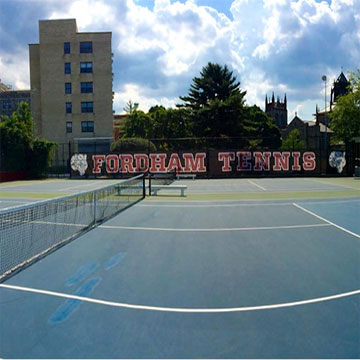 USTA Tennis on Campus
Founded in 2013, Fordham Club Tennis is a competitive, communal tennis group. Our mission is to promote competitive athleticism in a safe, encouraging, and fun environment. Our club allows its players to enhance their skill level and compete with others. Through collaboration and teamwork with fellow student members and leaders, Fordham Club Tennis players learn the value of camaraderie, sportsmanship, and stewardship in the community.
The Fordham University Club Tennis Team is an all-inclusive organization and does not restrict membership based upon national origin, race, religion, creed, gender, sexual orientation, age, and mental or physical handicap, under any circumstance.
*Like most club sport teams on campus, Club Tennis requires a nominal dues fee from all new and returning players. Dues help pay for balls, transportation and entry fees.