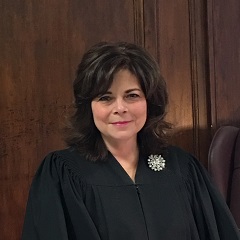 Adjunct Professor of Law
Acting New York State Supreme Court Justice Catherine M. DiDomenico graduated magna cum laude from Fordham University in 1986. She graduated cum laude from Fordham University Law School in 1989, where she was a member of the Law Review. After law school, she served as law clerk to then District Court Judge Reena Raggi (Judge Raggi now sits on the Second Circuit Court of Appeals). After clerking for Judge Raggi, Justice DiDomenico spent nine years litigating complex commercial cases for a major midtown Manhattan law firm. She left the firm in 1998 to serve as Legal Counsel to a United States Congressman and to open her own local law practice. Prior to her appointment to the bench in January 2005, Justice DiDomenico served as an Administrative Law Judge, an Impartial Hearing Officer and a federal court mediator.
Judge DiDomenico served as an Interim Civil Court Judge in Richmond County from January 2005 until January 2006 when she was appointed to the Richmond County Family Court. In January 2009, Judge DiDomenico was designated an Acting Supreme Court Justice. Currently, she presides over Integrated Domestic Violence Part, the Matrimonial Domestic Violence Part and Matrimonial Part 11 of the Richmond County Supreme Court.
Judge DiDomenico has taught at St. John's Law School. In addition, since 1990, she has served as an Adjunct Professor of Law at Fordham University School of Law. She is a member of the Office of Court Administration Family Court Advisory and Rules Committee. Judge DiDomenico is a frequent lecturer on the subjects of domestic violence, family law and dealing with the media in high publicity cases.
Mailing Address
Fordham University School of Law
Legal Writing Program
150 West 62nd Street, Room 7-175
New York, NY 10023