Lincoln Center Family Weekend Past Events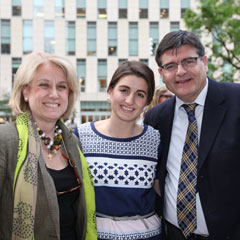 The schedule is not be finalized for this year's Family Weekend, but you can get an idea for the events we have lined up by looking at these events from Family Weekend's past!
Fordham Related
"Hidden in Plain Sight" Campus Tour: A Fordham Lincoln Center tour highlighting the Jesuit presence on campus.
Jazz Breakfast: Fordham's own Jazz Ensemble will be providing am
Family Weekend Mass: Come together to worship at the University's family liturgy. Families of all faith traditions are welcome.
Fordham University Football Game: Travel up to Rose Hill to see the Fordham Rams take on a hard-hitting game of football.
NYC Exploration
Double-Decker Bus Tour of NYC
One World Observatory
Big Onion Walking Tour of Harlem, Central Park or Greenwich Village
Broadway Shows: Past discounted shows include Come From Away! and Hadestown
An Afternoon on Your Own
Your family may decide to explore New York City on your own rather than joining one of the Fordham events. There is so much to see and do in New York City. Here are some of our favorites as well as a link to a NYC tourism website.
Transportation
Throughout your weekend, you can use public transportation for your family to see all the city has to offer. The subway station closest to Fordham LC is the 59th Street Columbus Circle station a block away from campus. The A, C, B, D and 1 trains stop there. The M11 bus stops right in front of campus. The following is information about the local transportation:
Subway ($2.75 one-way) - The Rose Hill Campus is accessible by both the D train and the 4 train at Fordham Road.
MetroNorth ($6.50 one-way off-peak) - Take the Harlem Line from Grand Central to the Fordham stop and you will exit on the Southwest corner of the Rose Hill Campus.
Ram Van service ($3.50 one-way): Fordham's Ram Vans will bring you from Lincoln Center directly onto the Rose Hill Campus. Service will be extremely limited the day of the football game
Parking at Rose Hill ($15 per car): Due to the Rose Hill Family Weekend, parking will be limited on the Rose Hill campus. We do recommend considering another transportation option. If you wish to drive to the Football Game, please arrive as early as possible as the Rose Hill Family Weekend events begin at 9 a.m.
The PATH train offers access to Manhattan from New Jersey
New Jersey Transit also operates rail and bus transportation to Manhattan from New Jersey