Fordham University provides On and Off Campus Shuttles.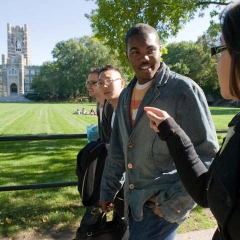 On Campus Shuttles is provided for members of the Fordham community with physical impairments within Rose Hill and Off Campus Shuttles is provided for students, staff and faculty to and from Rose Hill Campus. Similar to Ram Van Service between campuses, the shuttle will provide passengers with a reliable, comfortable and safe mode of transportation.
Fordham students and staff wishing to use this service must present a current valid Fordham identification card to board the van, must identify and accept responsibility for their guest on the van, must comply with all directions from the guard/driver and are responsible to comply with all University policies.