Transitions: Senior Year Experience Program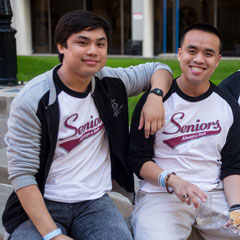 Transitions is a series of interactive programs developed by the Senior Week Committee for seniors of Fordham University. With events throughout the whole academic year, the goal of the program is to assist students in their transition from college into the next phase of their lives.
Topics discussed include:
Apartment hunting
Navigating the cocktail party
Managing the emotions of graduating
Financial planning
Sessions are presented by administrators from various university offices, young alumni panelists and guest lecturers.
Fordham University embraces its Jesuit mission of educating the whole person. Administrators, faculty and staff pride themselves in nurturing and supporting students throughout their college journey. It is imperative that we continue to support and serve our students as they graduate from the university. Research in higher education indicates that graduating seniors feel many of the same emotions experienced by first-year students in their first semester including separation anxiety and uncertainty. The Transitions: Senior Year Experience Program hopes to assist students in this process.
For additional information about the Transitions program, please contact Daniel Patterson, Associate Director for First-Year Experience at 212-636-6250.