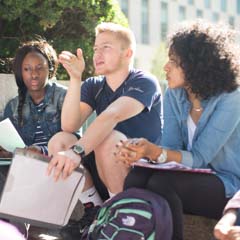 The Navy ROTC unit housed at Fordham University falls under the NROTC SUNY Maritime Unit. Fordham University is a Cross Town Affiliate. This unit also serves students from SUNY Maritime, Columbia University and nursing students from Molloy College. For more information, call the NROTC SUNY Maritime Unit at 718-409-7485 or email [email protected].
4 Year NROTC Scholarship
Applicants must use the online application to complete and submit all the required information in order to apply for the Navy ROTC scholarship.
Apply for the NROTC Scholarship
Naval Preparatory Program
The Fordham University Naval ROTC Preparatory Program Scholarship provides economically and/or academically disadvantaged applicants with a unique opportunity to earn a commission in the United States Navy. This scholarship offers 1 year scholarship to the recipient.
Find out more about the National Program
Each University has its own unique NROTC preparatory program. All universities provide scholarships for tuition, fees, room and board for the preparatory year. Upon prep year completion, the Navy NROTC scholarship supports tuition, books and fees for up to 40 months of benefits (up to 5 yr total benefit).
Learn More About the NROTC Preparatory Program Scholarship
Our physical office is located at the below address:
NROTCU SUNY Maritime
S & E Building
6 Pennyfield Ave, NY 10465
718-409-7242
Fax: 718-409-7402