Conservation Biology Graduate Certificate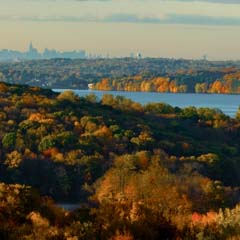 This program is targeted towards students interested in gaining the expertise in conservation biology necessary for addressing existing and emerging threats to the world's ecosystems, biodiversity, and human health.
Global climate change. Habitat destruction. Invasive species. Urbanization. Accelerated species extinctions. Expertise in conservation biology has never been more relevant and in demand.
Flexible Schedule/Compelling Coursework
With courses in the evenings and on weekends, Fordham's graduate certificate in conservation biology offers opportunities for exploring conservation biology and urban ecology.
Applicants should have completed a BA/BS in biology, or other natural/environmental science, or equivalent coursework. GRE scores are not required. Learn more about admissions requirements.
The course topics include:
Evolutionary and ecological processes affecting small populations
Factors affecting global biodiversity
Conservation of species and ecosystems
Fundamentals of environmental law and policy
Urban Ecology
Work with New York's Top Conservation Organizations
The certificate culminates with a hands-on practicum providing real-world experience, with opportunities to work at one of New York's conversation organizations, such as:
Learn more about the curriculum and program requirements.
Unparalleled Access to Ecological Research Sites
Fordham's formal partnerships with the New York Botanical Garden and the Wildlife Conservation Society at the Bronx Zoo provide access to diverse plant and animal populations and renowned facilities just adjacent to our Rose Hill campus in the Bronx.
Additionally, students can take courses and conduct research at Fordham's Louis Calder Center, a biological field station and ecological preserve composed of 113 forested acres in Westchester County housing:
State-of-the-art ecological, molecular, chemistry, and microscopy laboratories
Herbarium
Greenhouses
Experimental lake mesocosms
Field and forest enclosures
Long-term research sites/plots
Apply Now for the Advanced Certificate in Conservation Biology
Gainful Employment Disclosure
See our Gainful Employment Disclosure page.