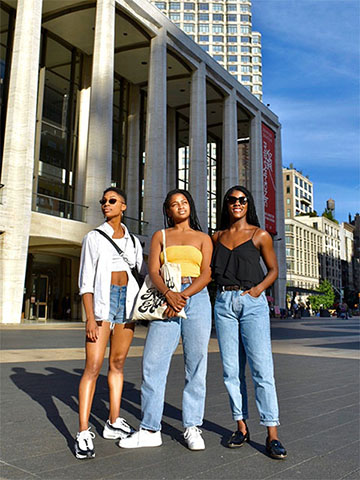 Fashion is much more than the trends of the season. Fashion is a cultural language, economic powerhouse, and artistic force felt throughout the world. Nowhere is this more apparent than in New York City, a global fashion capital and home to Fordham University.
Fordham has distinguished itself in the industry by housing the Fashion Law Institute at Fordham Law School and is now likewise distinguishing itself on an undergraduate level with the Fashion Studies Minor. New York City is home to a variety of schools offering fashion programs, but only Fordham's is situated within a traditional, four-year undergraduate liberal arts college.
Fordham offers a unique take on fashion education. We don't believe in teaching fashion out of context - our fashion studies curriculum is entirely interdisciplinary. Fashion Studies courses are offered by departments across the university. In addition to the required classes in business, culture, and design, students have the opportunity to learn about the psychology of consumer behavior, the sociological function of fashion trends, the historical significance of style, the environmental impact of production, and how to think and communicate through a visual medium.
Understanding fashion from a variety of perspectives and thinking critically about how the industry functions in the world today empowers students to develop new ideas and approaches to fashion. Fordham Fashion Studies students complete the minor prepared to become trend setters and changemakers in the industry.
Intersted in learning more about minoring in Fashion Studies?
Follow us @fordhamfashionstudies on Instagram, and contact [email protected] with any questions. The minor is open to all undergraduate Fordham students.