Our graduates have become professors, lawyers, writers, museum directors, and librarians, and enjoyed successful careers in business and educational administration.
Darryl Brock received his Ph.D. in Latin American History in 2014. He is an Assistant Professor of history at Wenzhou-Kean University in Wenzhou, China where he specializes in Latino studies, cultural identity, and immigration.
Edoardo Marcello Barsotti received his Ph.D. in History in 2019. He is a historian of nationalism and racism. He is currently a Research Fellow at the University of Pisa and a Teaching Associate at the University of Genova, Italy.
By analyzing some of the most influential Risorgimento's authors, his new book, At the Roots of Italian Identity, shows how early Italian nationalism dealt with the question of the origins of the nation. In casting a new light on this unexplored chapter of Italian history, At the Roots of Italian Identity challenges the assumption of a presumed Italian 'backwardness' in the development of modern racial paradigm

Edoardo Marcello Barsotti
Pedro Cameselle-Pesce received his Ph.D. in History in 2017. His research interests include Modern Latin America, U.S.-Latin American Relations, Immigration and Ethnicity. He is an Assistant Professor of History at Western Washington University.
Brother Geoffrey Clement O.S.F. received his M.A. in History and he is currently a Professor of Economics, History, and Political Science at St. Francis College in Brooklyn, NY.
Louisa Foroughi received her Ph.D degree in 2020. She started a tenure track job in Medieval and Early Modern History at Lafayette College for the 2020-2021 academic year.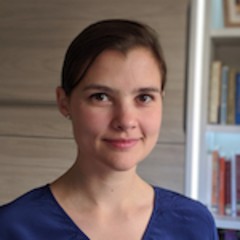 Louisa Foroughi
Jacquelyne Howard received her Ph.D. degree in 2019 and wrote her dissertation, "Families on the Borderlands", about marriage and kinship in 18th century French Louisiana. She is currently an Assistant Professor of Technology and Women's History at Newcomb Institute of Tulane University.
Ryan Keating received his Ph.D degree in 2013 in American History. He is currently an Assistant Professor of History at California State University at San Bernandino. His research interests include the Civil War Era, soldiers, veterans, and the effect of war on notions of identity, ethnicity, race, and gender.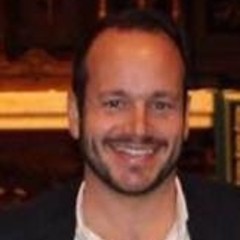 Ryan Keating
Jane Lennon received her Master's Degree in History in American History and Gender Studies from Fordham University in 2009. Since then she has taught World History at Preston High School in the Bronx and American History at Moraine Valley Community College in Palos Hills. Since relocating to her hometown of Chicago, Jane currently works as an Academic Advisor and instructor at Loyola University Chicago.
Nicole Lopez-Jantzen got her degree in 2012. Since graduating she has taught medieval history and religious studies at Drew University, Fordham University and John Jay College. In addition to teaching, she has presented her research at the Southeastern Medieval Association (SEMA) in Gulfport, M.S. and at the International Medieval Congress in Leeds, UK, in addition to organizing panels for the International Medieval Congress and the American Historical Association (AHA) meetings. This academic year (2013/2014) Nicole joins the faculty of Queensborough Community College as Assistant Professor of Medieval History. She will be presenting research at SEMA and the AHA and will participate in a roundtable on teaching at the International Medieval Congress at Kalamazoo.
Louie Dean Valencia graduated in with his Ph.D. and M.A. in History from Fordham (2016, 2010). As a graduate student, he received fellowships from the Andrew W. Mellon Foundation and the United States Library of Congress, amongst others. After graduating, he was appointed as a Lecturer on History and Literature at Harvard University, and currently is an Assistant Professor of History at Texas State University. He published his dissertation in 2018 as Antiauthoritarian Youth Culture in Francoist Spain: Clashing with Fascism (Bloomsbury Academic). He is the founding co-chair of the Critical European Studies Research Networkfor the Council for European Studies (CES) at Columbia University, and is a research editor of the CES' monthly digital journal, EuropeNow. He has served as a director of the Leadership Enterprise for a Diverse America Summer Institute at Princeton University. He is a Senior Fellow for the London-based Centre for the Analysis of the Radical Right, and has recently finished editing the volume Far-Right Revisionism and the End of History: Alt/History (Routledge, 2020).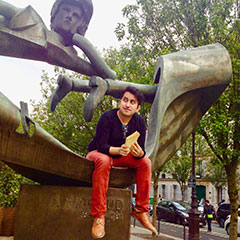 Louie Dean Valencia
Michael Vargas earned his Ph.D. in 2006. He is currently an associate professor of History at the State University of New York at New Paltz, where his course titles include Jihad and Crusades, Medieval Traveler, Inquisition, Kings and Kingdoms, The Medieval Spains, and Medieval Towns. He was named Mentor of the Year in the spring of 2013 by the advisory committee of the SUNY New Paltz Research, Scholarship and Creative Activities Program for his work with students on special projects beyond the classroom. His book, Taming a Brood of Vipers: Conflict and Change in Fourteenth-Century Dominican Convents (Brill, 2011) received the La Corónica International Book Award for 2013 and earned an honorable mention in the 2013 Association for Spanish and Portuguese Historical Studies Best First Book Prize competition. The book will be featured for discussion at a session sponsored by La Corónica at the Medieval Congress at Kalamazoo in 2014. Michael is currently on sabbatical, and has received a Fulbright Senior Scholar Award to conduct research in Barcelona, Spain, on the history of Catalonia's political and bureaucratic designs on Sicily and Sardina in the Late Middle Ages.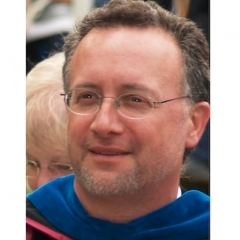 Michael Vargas
Kristin Uscinski received her Ph.D. in 2017 in Medieval History. She is currently teaching as a lecturer in History at SUNY Purchase College. She specializes in culinary history, Medieval England, and Jewish history.