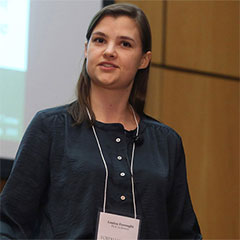 Louisa Foroughi, whose dissertation, "What Makes a Yeoman? Status, Religion, and Material Culture in Later Medieval England," earned her the 2019 Dissertation Fellowship by NACBS.
Our graduate program is personalized and student-oriented, with small classes taught by our world-renowned faculty.

Our students produce scholarship of the highest quality. Whether you are committed to an academic career or interested in history as a stepping stone to a career in education, industry, media and arts, non-profits, or the public sector, you will graduate with the critical intellectual and practical skills to carve your own path.

We offer three degree programs: an M.A. in Global History, an M.A. in History, and a Ph.D. in History.
Medieval History
The Fordham History Department is one of the premier sites for the study of the Middle Ages in North America. Courses focus on every period in the medieval millennium (500-1500). Students are exposed to the latest research and techniques in the classroom and in special seminars and training sessions. Students work with medieval manuscripts and documents and carry out research in archives around Europe and the Mediterranean.
Modern History
Our Modern History Program covers the period since 1500 in the Americas, Europe, Asia and Africa. It offers students the flexibility to design a program that fits their career goals. Whether you are interested in the Age of Exploration, gender and sexuality in early modern Europe, the U.S. civil rights era, or Soviet space exploration, our program offers outstanding courses and mentorship.
Global History
Our expert faculty will help you uncover and analyze the global dimensions of history from global empires to the history of climate change, the dynamics of human migration, the history of race and gender, to the history of capitalism. Whether you are interested in medieval epidemics and trade or the history of the internet, the M.A. in Global History equips you to explore your ideas in new and exciting ways.
The range of possibilities for graduate study is further broadened by Fordham's many interdisciplinary programs, which foster productive discussion across fields. These include the Medieval Studies Program, the Bronx African American History Project as well as the Medieval Digital History Project, and the O'Connell Initiative in the History of Capitalism.
Learn the skills of the historian
As a graduate student, you will explore a wide array of ideas, resources, and techniques to research historical questions and communicate your findings. You will be trained in the tools of professional scholarship. Our students study a broad selection of historical periods, topics, and methodologies alongside experts in the field. Fellowships and travel grants offer the opportunity for research at archives and libraries, to attend conferences, and to take part in the intellectual life of working historians.
Become an exemplary teacher
Our department emphasizes the importance of pedagogy. You will receive one-on-one training from a faculty mentor and develop your teaching skills in a pedagogy course. Ph.D. students teach their own class starting in the third year of study. You will design your own syllabus, give lectures, run discussions, as well as grade and advise undergraduates.
Education for the whole person
The Fordham community emphasizes the significance of the Jesuit principle of cura personalis, or care for the whole person. We mentor our students with this in mind. Our approach to graduate education is personalized and student-oriented. Classes are small and intensive. The History Graduate Student Association provides a social and scholarly community and supports students through their programs of study.
Develop a practical skill set
A Fordham graduate degree in history offers you a transferable set of skills for work outside of academia. Critical analysis, professional research, and persuasive writing are fundamental to our graduate education. Our faculty teach textual editing, oral history, and document analysis, and digital analysis and presentation. Our graduates have gone on to successful careers in college and high-school teaching, journalism, museums and cultural institutions, the non-profit sector.
Fordham's Professional Development programs are designed to help students explore career options and prepare for the job market. Training is offered in public speaking, grant-writing, outreach, and project management.
Study in New York City
At Fordham, you reap the benefits of studying in New York, one of America's most exciting cities and a global and cultural capital. New York's vibrant and culturally diverse atmosphere is itself a landscape of history ready for exploration. A wide range of museums and libraries offer extraordinary opportunities for research. Graduate students are plugged into the city's vibrant intellectual life through the Inter-University Doctoral Consortium.