Master of Arts in Global History
Understanding the human experience through new approaches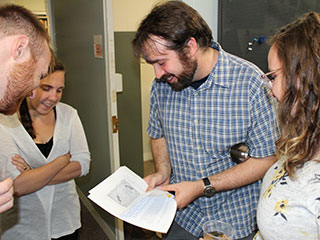 History grad students gather at the HGSA welcome social.
History has only recently come to be understood from a global perspective. At Fordham, our goal is not just to include more regions and peoples in the human story, but to identify new questions about the many worlds we study—whether they are local communities or planet-spanning systems. These new insights lead us across spatial scales to examine migration and exchange, global empires, cultural transfers, and more.
Program Highlights
Full-time students can complete the program in one year
Pursue original research in fields related to your global interests
Develop a strong foundation in critical analysis and persuasive writing
Engage in interdisciplinary coursework from a global perspective
Attend courses day and evening at our Rose Hill and Lincoln Center campuses
Take advantage of New York City's many museums and libraries for research
Program Basics
Curriculum requires eight classes for a total of 30 to 32 credits
Take a minimum of three global history elective courses
Hone your skills in a "theories and methods" for historians
Choose between a traditional scholarly research paper (40 – 60 pages) or a special project as a capstone to the degree.
Reading proficiency in one foreign language and a capstone research paper are required
Intellectual and Professional Advancement
The M.A. in Global History offers considerable flexibility for students working towards careers outside of academia. It builds skills and training transferable to a wide variety of professions. It enhances credentials and training for teaching in the New York and New Jersey State Social Studies curriculum. It prepares you for careers in fields related to business, public policy, administration, law, and humanitarian organizations.
Graduates have been accepted into doctoral programs at NYU, Columbia and other top-rated universities
Educators have enhanced their professional preparation and certification
Alumni have gone on to careers in law, teaching, and journalism as well as positions in museums and libraries