Master of Arts in History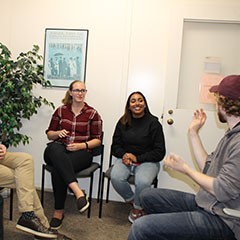 Fordham's M.A. in History gives you the tools and guidance to investigate the fascinating world of the past.
Whether your subject of interest is medieval medicine, American slavery, or European trade networks, our program has a large, diverse faculty and offers a broad range of topics and methodologies. You'll choose from one of two concentrations:
Medieval history focuses on the history of Europe from the collapse of the Roman Empire to the 15th century.
Modern history focuses on Europe and the Americas, and encompassing any period from 1500 to present.
In the spirit of the Jesuit principle of cura personalis—care for the whole person—you'll receive the personal attention you need to hone your unique skills and produce scholarship of the highest quality. The master's is personalized and student oriented with opportunities to develop individualized tutorials with leading experts in your chosen field of study. M.A. students take courses with Ph.D. students and fully participate in the intellectual life of the History Department.
Please see our admissions page for more information. Direct any questions to the Director of Graduate Studies at [email protected].
Program Highlights
Pursue original research in fields related to your interests.
Develop a strong foundation in critical analysis and persuasive writing.
Small class sizes and seminars specifically for graduate-level work.
Integrate and expand your knowledge through interdisciplinary studies.
Gain skills in textual editing, oral history, archival description, and visual humanities.
Public and digital history projects make history come alive and speak to broader audiences.
Take advantage of New York City's many museums and libraries for research.
Program Basics
Full-time students can complete the program in one year.
Curriculum requires eight classes for a total of 30 to 32 credits.
Courses given at both the Bronx and Lincoln Center campuses.
Afternoon and evening courses accommodate part-time students who are teaching or working.
Conduct a capstone research paper or special project.
Reading proficiency in one foreign language and a capstone research paper are required.
Intellectual and Professional Advancement
The M.A. in History builds skills and training transferable to a wide variety of professions and can be fit to your personal career goals. It enhances credentials and training for teaching in the New York and New Jersey State Social Studies curriculum. It prepares you for careers in fields related to business, public policy, administration, law, and humanitarian organizations.
Graduates have been accepted into doctoral programs at NYU, Columbia and other top-rated universities
Educators have enhanced their professional preparation and certification
Alumni have gone on to careers in law, teaching, and journalism as well as positions in museums and libraries