Master the Historian's Craft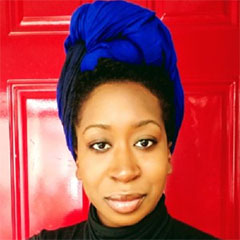 Doctoral student, Lisa Betty, received an Archival Research Fellowship for her work on the Afro-Caribbean diaspora in Guantánamo and the Black Cuban diaspora in the Bronx.
With a wealth of top cultural institutions and abundant archival resources, New York City is an exciting place for the aspiring historian. As a doctoral student at Fordham, you'll have all of the advantages of a big cosmopolitan city while enjoying the small intimate scale of our university. Our doctoral program is personalized and student oriented. At Fordham we believe that research and teaching go hand in hand in sharpening your scholarship and assuring that your work has an impact.
Renowned for our medieval program, the history department is also particularly strong in global history; the history of science, technology, and medicine; and urban history. You'll thrive in our small, seminar-style classes and benefit from intensive one-on-one training with a faculty mentor.
You'll choose from one of two tracks:
Medieval history focusing on the history of Europe from the collapse of the Roman Empire to the 15th century
Modern history encompassing any period from 1500 to present, with subject areas in Europe, the Americas, Asia, and global history
Unlike larger universities where doctoral students serve as teaching assistants, you'll teach your own undergraduate classes. As a Fordham Ph.D. you will develop your teaching skills in a one-on-one pedagogy course and then teach your own class starting in your third year. You will design your own syllabus, give lectures, run discussions, as well as grade and advise undergraduates.
Program Highlights
Opportunity for full funding and scholarships
Pursue original research in fields related to your interests
Focus on critical analysis, archival research, and persuasive writing
Small graduate courses on both broad survey topics and specialized themes, as well as opportunities to develop individualized tutorials with leading experts in your chosen field.
Prepare for teaching undergraduate work through a one-semester pedagogy tutorial
Courses given at both the Bronx and Lincoln Center campuses.
Opportunities to hone your skills as a practicing professional (conference presentation, public speaking, grant writing, preparation of publications)
Integrate and expand your knowledge through interdisciplinary studies
Gain skills in textual editing, oral history, archival description, and visual humanities
Public and digital history projects make history come alive and speak to broader audiences.
Take courses at Columbia University, the Graduate Center at CUNY, New York University, Princeton University, Stony Brook University, and Teachers College of Columbia University through the Inter-University Doctoral Consortium
Program Basics
Curriculum requires eight courses totaling 30-32 credits beyond the M.A. degree
Pedagogy Tutorial
Medieval History: required Proseminar and Seminar sequence
Modern History: required History Theory & Methods, and Research Tutorial
Reading proficiency in two foreign languages
Dissertation and dissertation defense
Careers
The Ph.D. Degree in history builds skills and training transferable to a wide variety of professions and can be fit to your personal career goals.
Our professional development programs are designed to help students explore career options and prepare for both the job market and for professional responsibilities such as public speaking and project management
Our teaching and pedagogy training will set you apart on the academic job market and arm you with will a host of transferable skills for careers beyond the academy.
Our graduates have gone on to work at universities and other cultural institutions including Harvard University, SUNY, New Paltz, Queensborough Community College, the New York Historical Society, and the Leo Baeck Institute
Our alumni have successful careers in law, teaching, and journalism as well as positions in museums and libraries