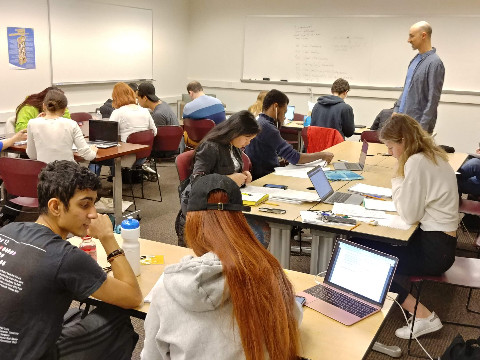 The Fordham Mathematics Department offers students the opportunity to learn from exceptional teachers and researchers in a small classroom setting.
On both the Rose Hill and Lincoln Center campuses, our faculty equip students with the reading, writing, thinking, and communication skills needed to succeed in the contemporary world. Our students go on to successful careers not just in pure and applied areas of mathematics, but also in the many other fields that now make daily use of mathematics.
Advanced undergraduates have the opportunity for directed study in areas outside the standard curriculum, for independent research projects under faculty mentors and for service both within Fordham and in the surrounding Bronx community.
We offer both B.S. and B.A. degrees with majors in pure math, or applied math, joint majors with computer science and economics, a 3-2 Engineering program joint with Columbia University or Case Western Reserve University, a 5 year Integrated Teacher Education Track as well as a flexible mathematics minor.
Joint Majors and Special Programs