Study Abroad Opportunities with Medieval Studies
Studying the Middle Ages Abroad
The Center for Medieval Studies offers undergraduate and graduate students several opportunities to enrich their appreciation and knowledge of the Middle Ages by studying abroad. Such opportunities can be found through Fordham's Study Abroad Office, but Medieval Studies also offers its own courses abroad.
Spain
Graduate students Katrine Funding Højgaard (Fall 2015 visiting
Student, Medieval Studies) and Alexa Amore (MVST '16) show off their
credentials and compostelas at the Pilgrim's office in Santiago.
The Center for Medieval Studies has also run Study Tour courses, which generally involve two weeks of intensive travelling (either in the early summer or January intercession) linked to meetings in the school year to prepare for the course. These courses are generally open to both undergraduate and graduate students. For example, the popular course Study Tour: Medieval Spain, which walks along the last 200 miles of the pilgrimage route to Santiago de Compostela, is offered most years. Most recently, it was taught by Dr. Christina Bruno. Past blogs of the Camino trip, along with syllabi and further information on the course, are available at the Study Tour: Spain link above. Students sign up for the course in the spring semester and meet several times to discuss the trip and what they will be seeing, but the course runs primarily in a two-week period in the last week of May and first week of June. The Camino study tour program is open to both graduate and undergraduate students.
London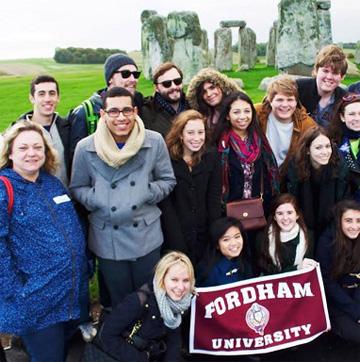 Fordham's Medievalists visit Stonehenge
while studying abroad in London.
The Center often runs Medieval Studies courses at Fordham's London Centre at Clerkenwell, in the heart of London. Undergraduates can sign up for this program during the fall or spring semesters, which in the past has offered interdisciplinary capstone courses on the archaeology and history of medieval London (taught by Dr. Maryanne Kowaleski) and Arthurian literature (taught by Dr. Susanne Hafner). The London program includes course-related excursions to such sites as the Tower of London, Westminster Abbey, Stonehenge, Canterbury, Bath, and other locations. Undergraduates in this program also have the opportunity to sign up for additional medieval courses at one of the University of London campuses affiliated with Fordham's London Centre. See the International Study Abroad Programs page for The London Liberal Arts Program.
On occasion, the Center also sponsors summer courses at Fordham's London Centre that are open to both undergraduate and graduate students through the Fordham in London: Summer Liberal Arts program. In the summer of 2020 Dr. Susanne Hafner will offer a class on London Literature. Previously, in the summer of 2013, our Medieval Summer in London program offered The Knights of the Round Table, also taught by Dr. Susanne Hafner. The Summer 2012 course, English Mystics and Heretics, was taught by Dr. Patrick Hornbeck. For several Fordham students' experience at the London campus, see this article in the Fordham Observer.
York Exchange Bursary
The Center for Medieval Studies also provides several opportunities for graduate student travel and study abroad, including the Fordham/York Exchange Bursary, which pays the airfare, room and board and registration fee for a Fordham medievalist graduate student to attend (and help out at) a York conference for a period of 5-7 days.
Other Study Abroad Opportunities
Other graduate students have funded research abroad through GSAS internal fellowships or through Medieval Studies travel fellowships (including the Mooney Travel Fellowship), and through funding available (especially for conference papers given abroad) through the Graduate Student Association. Undergraduate students may also wish to participate in another of Fordham's Study Abroad programs, since many offer courses about the Middle Ages. Further information on these opportunities is available from the International and Study Abroad Programs Office.