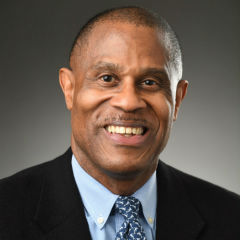 Professor
James and Nancy Buckman Chair in Applied Christian Ethics
Department of Theology
Rose Hill Campus
441 East Fordham Road
Bronx, New York 10458
Email: [email protected]
Bryan N. Massingale is the James and Nancy Buckman Professor of Theological and Social Ethics, as well as the Senior Ethics Fellow in Fordham's Center for Ethics Education. Prior to his appointment at Fordham, he was Professor of Theology at Marquette University.

Professor Massingale is a leader in the field of theological ethics. He is a past Convener of the Black Catholic Theological Symposium and a former president of the Catholic Theological Society of America. He is a member of the Board of Directors of the Society of Christian Ethics and serves on the editorial board of Theological Studies, one of the premier Catholic journals of theology. He also served on the editorial boards of the Journal of Moral Theology and the Journal of the Society of Christian Ethics. He is a current member and past coordinator of the North American Regional Committee of the "Catholic Theological Ethics in the World Church" project.

Dr. Massingale is the recipient of four honorary doctorates, and has held the Bernard J. Hanley Chair at Santa Clara University. He is also the recipient of Marquette University's highest award for teaching excellence (2009).

In addition to his academic pursuits, Professor Massingale strives to be a scholar-activist through serving faith-based groups advancing justice in society. He is a noted authority on issues of social and racial justice, having addressed numerous national Catholic conferences and lectured at colleges and universities across the nation. He has served as a consultant to the United States Catholic Conference of Bishops, providing theological assistance on issues such as criminal justice, capital punishment, environmental justice, and affirmative action. He has also been a consultant to the National Black Catholic Congress, Catholic Charities USA, the Catholic Health Association, Catholic Relief Services, the Leadership Conference of Religious Women, the Conference of Major Superiors of Men, the National Catholic AIDS Network, and the antiracism teams of Call to Action and Pax Christi USA. He is an active participant in a network of Catholic thought leaders striving for fuller inclusion of LGBT persons in society and the faith community.

His contributions to justice advocacy have been recognized on many occasions. He received the Pope John XXIII Award from the Association of U.S. Catholic Priests in 2017, "for his tireless efforts to create a world where the dignity of each person is respected and protected." He received Catholic Charities USA's "Centennial Gold Medal" in 2012 for leadership and service in the social mission of the Roman Catholic Church. He received the YWCA's "Eliminating Racism" award in 2014. He is the recipient of Project Equality's "Religious Momentum" Award for his efforts in promoting diversity in the Catholic Church. He has been honored by both Fairfield University and Cardinal Stritch University for his advocacy for social justice and his work for inclusion of the socially marginalized. He was awarded the "Rev. Al McKnight Award" in 2011 by the National Joint Conference of Black Catholic Clergy, Sisters, Deacons and Seminarians for outstanding witness on behalf of justice for the marginalized. He was honored with the "Harry Fagin Award" in 2009 by the National Association of Diocesan Social Action Directors for his contributions to the study and knowledge of Catholic Social Teaching. He has received numerous recognitions from the Catholic Press Association for award-winning commentaries on contemporary social issues from a faith perspective.

S.T.D., Academia Alphonsianum (Rome)

S.T.L., The Catholic University of America

M.Div., Saint Francis Seminary

B.A., Marquette University

Professor Massingale is an expert in Catholic Moral Theology, Catholic Social Thought, African American Religious Ethics, Racial Justice, Liberation Theologies, Race and Sexuality.

His current research projects explore the contribution of Black religious radicalism to Catholic theology; the notion of "cultural sin" and its challenge to Catholic theological ethics; and the intersections of race and sexuality in both social life and Catholicism.

Racial Justice and the Catholic Church (Maryknoll, NY: Orbis Books, 2010)

"The Erotics of Anti-Blackness: Police Sexual Violation of Black Bodies," in Vincent W. Lloyd and Andrew Prevot (eds.), Antiblackness in Christian Ethics (Maryknoll, NY: Orbis Books, 2017), 173-194.

"Beyond 'Authentically Black and Truly Catholic': Black Catholic Identity for a New Time," Journal of the Black Catholic Symposium 10 (2017), 41-61.

"White Supremacy, the Election of Donald Trump and the Challenge to Theology," Concilium (2017/3): 65-73. (Spanish: "Supremacía blanca, la elección de Donald Trump y el desafío a la teología," Concilium 371 (Junio 2017): 401-410; Italian: La supremazia bianca, l'elezione di Donald Trump e le sfide per la teologia, Concilium (2017/3): 86-96; German: "Die Vorherrschaft von Wiessen, und die Wahl Donald Trumps und die Herausforderung fur die Theologie," Concilium (Juli 2017): 304-311)."Theology in the Public Square in the 21st Century," Horizons: Journal of the College Theology Society 43 (December 2016): 351-356.

"Beyond 'Who Am I to Judge?' The Sensus Fidelium, LGBT Experience, and Truth-Telling in the Church," in Learning from All the Faithful: a contemporary theology of the sensus fidei, Bradford E. Hinze and Peter C. Phan (eds.), (Eugene, OR: Wipf and Stock, 2016), 170-183.

"Conscience Formation and the Challenge of Unconscious Racial Bias." In Conscience and Catholicism: Rights, Responsibilities, and Institutional Reponses. David E. DeCosse and Kristin E. Heyer, eds. (Maryknoll, NY: Orbis Books, 2015), 53-68.

"Toward a Catholic Malcolm X?" American Catholic Studies 125:3 (Fall 2014) 8-11.

"Has the Silence Been Broken? Catholic Theological Ethics and Racial Justice." Theological Studies 75:1 (March 2014): 133-155.

"Malcolm X and the Limits of 'Authentically Black and Truly Catholic'." Journal of the Black Catholic Theological Symposium 5 (2011): 7-25.

"Vox Victimarum Vox Dei: Malcolm X as Neglected 'Classic' for Catholic Theological Reflection." Presidential Address, CTSA Proceedings 65 (2010): 63-88.

"The Ignatian Witness to Truth in a Climate of Injustice," Conversations on Jesuit Higher Education 52 (Fall 2017): 2-7.

"The Church's Appalling Silence on Racism," U.S. Catholic 82 (March 2017): 10. http://www.uscatholic.org/articles/201701/churchs-appalling-silence-racism-30911

"Let's Be a Church Where Black Lives Matter," U.S. Catholic 81 (December 2016): 8. On-line at http://www.uscatholic.org/articles/201612/lets-be-church-where-black-lives-matter-30843 [Second Place Award, Catholic Press Association, 2017.]

"We Cannot Abandon Transgender Catholics," U.S. Catholic 81 (August 2016): 8. On-line at http://www.uscatholic.org/articles/201608/we-cannot-abandon-transgender-catholics-30726

"When Injustice Becomes 'Reasonable,' Injustice Becomes Excusable," U.S.Catholic on-line (2013) http://www.uscatholic.org/blog/201307/when-profiling-%E2%80%9Creasonable%E2%80%9D-injustice-becomes-excusable-27574.

"A Parallel That Limps: The Rhetoric of Slavery in the Pro-Life Discourse of U.S. Bishops." In Nicholas P. Cafardi, ed., Voting and Holiness: Catholic Perspectives on Political Participation (Mahwah, NJ: Paulist Press, 2012), pp. 158-177.

"The Systemic Erasure of the Black/Dark-Skinned Body in Catholic Ethics." In James F. Keenan, ed., Catholic Theological Ethics Past, Present, and Future: The Trento Conference (Maryknoll, NY: Orbis Books, 2011), pp. 116-124.