Urban Studies International Initiatives
Fordham's Urban Studies students participate in global discussions about urban issues with opportunities for international study and collaboration made possible by a generous grant from Santander Universities.
---
2016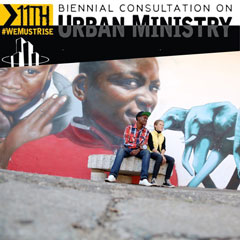 11th Biennial Consultation on Urban Ministry, University of Pretoria, August 2016
Associate Professor of Anthropology, Aseel Sawalha, and MA student Nzingha Crusoe participated in the 2016 Urban Consultation's #WeMustRise Festival in Tshwane, South Africa. The Biennial was led by the Institute for Urban Ministry, and jointly hosted by Tshwane Leadership Foundation, PEN, Echo Youth Development, the Department of Spirituality, Missiology and Church History at UNISA and the Centre for Contextual Ministry at the University of Pretoria.
Technical University, Berlin Germany, Center for Metropolitan Studies, June 2016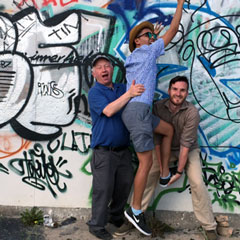 MA students Rico Blando, Matiss Steinerts, and Adam Stoller, led by program director Annika Hinze, and hosted by the Center for Metropolitan Studies, TU Berlin, explore the social and political urban landscapes of Berlin and New York.
---
2015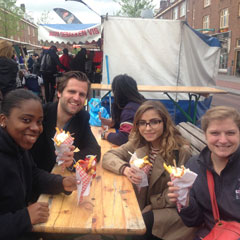 Metropolitan Studies Program, University of Amsterdam, June 2015
MA students Beth Jarrett, Catherine Papageorgiou, and Mirabelle Thevenin participated in the "Who Makes the City?" Conference hosted by the Metropolitan Studies Program at the University of Amsterdam. Led by UvA student Joris Zevenbergen, the Fordham students toured Amsterdam neighborhoods undergoing gentrification. Articles from their MA theses are published on the web site of the Research Masters students at UvA: theprotocity.com.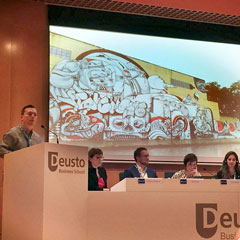 Institute of Leisure Studies, University of Deusto, Bilbao, June 2015
MA Students Fredric Nachbaur and Patrick Verel presented their theses at the Ociogune 2015 conference hosted by the Institute of Leisure Studies. They took part in a seminar on waterfront regeneration comparing two case studies: the Brooklyn waterfront and Bilbao's Zorrotzaurre. Led by researcher Fernando Bayon Martin, the Fordham group toured Bilbao's waterfront neighborhoods.