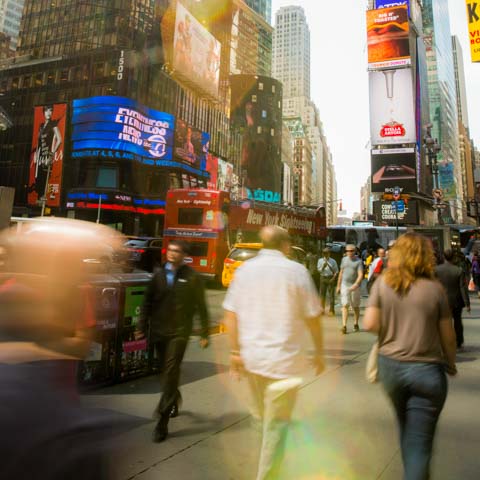 Designed as an interdisciplinary program, Urban Studies offers a broad introduction to the city and the urban environment.
Students combine course work and urban issues with hands-on experience in New York City. A dedicated faculty offer courses ranging from urban politics and community, architecture and the built environment, urban history, immigration and class relations, to literary representations of urban space.
Learn More About:
---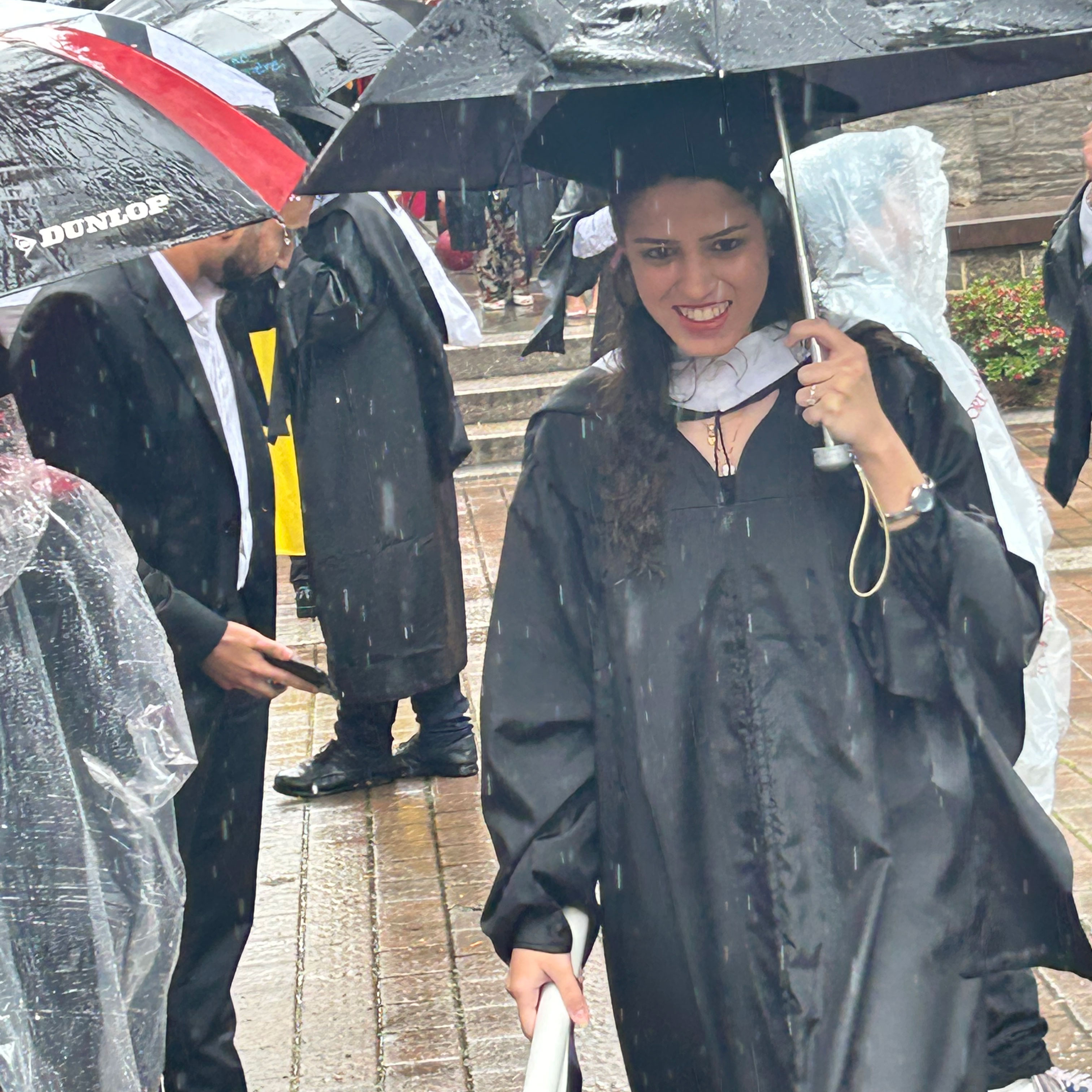 Congratulate our 2023 Graduates!
Nisa Khurram Hafeez is a graduate student in the Urban Studies program at Fordham University. Originally from Karachi, Pakistan, Nisa has spent a significant portion of her professional life working on policy change for gender-based violence. Her current research interests lie at the intersection of planning and policy implementation on issues of inequality and urban resource accessibility aimed toward gender, minority groups, and other marginalized populations. She interned with the San Francisco Municipal Transportation Agency during her second year in the Transit Performance and Analysis team where she worked to solve problems emerging within field operations in public transit. She also worked on in-house advocacy on a new harassment reporting campaign launched under the agency last year. Her final year thesis titled "Gendered City: Women's Experiences in Urban Public Transportation" focuses on women's experiences in New York's subway system through aspects of safety and inclusion.
Learn more about Nisa's work and plans after graduation.
---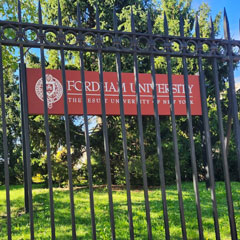 New York Universities, It's Time to Tear Down That Wall
By Brian Martindale, Fordham Urban Studies
from Gotham Gazette:
"New York universities are walling people out. Major private institutions across the city are surrounded by gates, but not because they are in the most dangerous neighborhoods. Rather, it appears that largely white student bodies are being walled off from their surrounding communities because of unfounded fear of racial others.

Columbia University, in a neighborhood adjacent to Central Harlem, is blockaded on every side with a security force keeping watch on all who enter its narrow gates. St. John's University, in Queens' Hillcrest neighborhood, is peppered with turnstiles, gated parking lots, and signs marking it as "Private Property." Fordham University's Rose Hill campus in the Bronx is similarly locked-down, separated from the surrounding community by wrought iron and chain link fences, at places with barbed wire and stone walls. The only way in, with few exceptions, is by scanning a school ID past a staffed security booth or full-height turnstiles.

Standing in contrast is New York University, located in Manhattan's Greenwich Village. NYU is a decidedly urban campus, built into the fabric of the city, with the public Washington Square Park serving as its primary quad.

What makes NYU different? Gut instinct might suggest NYU is in a safer neighborhood so it doesn't need a gate. But it turns out the universities that believe they need to wall out crime are actually in safer communities."
Read the full article by Brian Martindale at Gotham Gazette.
---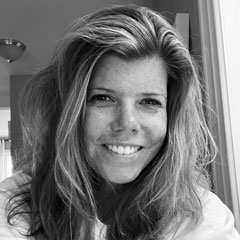 Annika Hinze Appointed as New IPSR Editor
from ipsa.org:
Annika Marlen Hinze, Associate Professor of Political Science and the Director of the Urban Studies Program at Fordham University, has been appointed as co-editor of the International Political Science Review (IPSR).
Dr. Hinze's research and teaching focus on urban politics, immigration policy, democratic theory, and qualitative and mixed methods research. Hinze is also interested in housing, transportation, and sustainability policy in cities. Her first book, Turkish Berlin: Integration Policy and Urban Space (University of Minnesota Press, 2013), compares integration policy and lived integration of second-generation Turk-German women in two Berlin neighborhoods. She is also the co-author (with Dennis R. Judd) of the 10th edition of City Politics: The Political Economy of Urban America (Routledge 2018), as well as the 11th edition, newly entitled City Politics: Cities and Suburbs in 21st Century America (Routledge 2022), and co-editor (with James M. Smith) of the forthcoming 8th edition of American Urban Politics in a Global Age (Routledge, forthcoming). Hinze has published articles in the Journal of Ethnic and Migration Studies, PS: Political Science & Politics, Studies in Ethnicity and Nationalism, and co-edited a special issue on "North American Urban Politics" in the journal Urban Research and Practice (2013). Her current research focuses on gender equality in academia, the lasting impact of the COVID-19 pandemic on cities in policy framing and practice, sustainability policy and planning in American cities, urban neighborhood change, and democratic institutions. Dr. Hinze has done field research in Canada, Germany, Turkey, and the United States and is an Associated Researcher at the Center for Metropolitan Studies at TU Berlin.
Read the announcement at ipsa.org.
---
Congratulations Catherine Kien and Sarah Thompson!
Recipients of the 2022/23 Trinity Financial Fellowship
The Trinity Financial Fellowship supports the academic research of outstanding Urban Studies undergraduate majors at Fordham University as they complete their senior internship and thesis.
Participants in the Trinity Financial Fellowship produce senior theses related to social and economic concerns, community and cultural initiatives, the built environment and environmental justice.
Current Fellow Insights
Catherine Kien
"Hi, my name is Cat! I'm a senior at FCRH studying Urban Studies and Sociology, and I was born and raised in the Bronx. I'm interested in community outreach and social work, and I'm currently a youth organizer with Mekong NYC, which serves Vietnamese and Cambodian community members in the Bronx.

Through my senior thesis, I aim to explore the "School-to-Prison-to-Deportation Pipeline," and analyze data related to urban schools, police presence in urban communities, and the life outcomes of Southeast Asian refugees. My investigation would highlight the ways in which police violence–in addition to unsustainable welfare, mental health challenges, and limited social support–impacts refugees' ability to settle into their urban communities. I would like to specifically highlight the experiences and conditions of individuals who live in urban sanctuary cities in order to observe how Southeast Asians are actually protected from this systemic violence and potentially deportation."
Sarah Thompson
"My thesis will explore the housing affordability crisis and the climate crisis, posing green building as a remedy to both cases. I plan to study housing solutions in the Bronx, a borough that faces disinvestment and speculation in its housing stock. By collecting data and conducting interviews to examine the efficacy of green building through a social housing model lens, I hypothesize both affordability and health for tenants will improve, while poor housing quality and displacement of residents that arise from disinvestment will be disrupted."
---
City Politics: Cities and Suburbs in 21st Century America
9781032006352
Routledge
July 12, 2022
from the publisher:
City Politics has received praise for the clarity of its writing, careful research, and distinctive theme – that urban politics in the United States has evolved as a dynamic interaction between governmental power, private actors, and a politics of identity.
The book's enduring appeal lies in its persuasive explanation, careful attention to historical detail, and accessible and elegant way of teaching the complexity and breadth of urban and regional politics which unfold at the intersection of spatial, cultural, economic, and policy dynamics. This 11th edition has been thoroughly updated while retaining the popular structure of past editions.
---
Urban Studies Week Panel Discussion:
COVID-19 AND THE CITY
This event happened on April 27
The Urban Studies Program at Fordham University cordially invites you to this year's Urban Studies Week Panel Discussion: COVID-19 and the City.
There is ample data to show the disproportionate impact of COVID-19 on communities of color, and the exacerbating effects it had on existing inequalities. But simultaneously, we also witnessed a highly politicized discussion, in which politicians and journalists were quick to proclaim The End of the City as we know it. Our panelists will examine all these different narratives, as well as the real effects of the pandemic, from their different perspectives.
Panelists
Discussion and Insight
Challenges that major cities and their vulnerable communities faced during the pandemic
The politicized predictions of "the end of the city"
Issues cities still have to address as we continue to live with COVID-19
Please join us on April 27, from 1–2:30 p.m. for what promises to be an exciting and important conversation.
---
Four Dream Conversations in Urban History
from globalurbanhistory.org:
The Covid-19 pandemic has changed academic conversation, likely forever. This last June, several dozen GUHP members from across the world gathered to envision new ways to fulfill the Project's mission as we go forward. Instead of thinking about location or formats of new events, we decided that online some form of hybrid events were actually to GUHP's advantage, since they allowed relatively simple and chap ways to bring the membership together over long distances.
What are our "Dream Conversations"? Read more at globalurbanhistory.org.
---
The Promise and Peril of Artificial Intelligence
from fordham news:
The concept of artificial intelligence has been with us since 1955, when a group of researchers first proposed a study of "the simulation of human intelligence processes by machines." At the same time, it seems like not a day goes by without news about some development, making it feel very futuristic.
It's also the purview of professors from a variety of fields at Fordham, such as Damian Lyons, Ph.D., a professor of computer science, R.P. Raghupathi Ph.D., a professor of information, technology and operations at Gabelli School of Business, and Lauri Goldkind, Ph.D., a professor at the Graduate School of Social Service.
Listen to the podcast by Fordham Urban Studies alumnus Patrick Verel:
Read the full transcript at Fordham News.
---
In Bronx and beyond, the pandemic revealed resilience
from the christian science monitor:
"When Bethany Fernandez first began to document oral histories in the Bronx during the pandemic, her own life was "chaotic," she says – her familiar routines upended, her days confronted with fear and uncertainty.
But the past year and a half has become, almost in a strange way, a time of profound personal growth and self-discovery, says Ms. Fernandez, a lifelong resident of the Bronx, a borough of New York City.
The communities surrounding her were among the most afflicted in the country, and they were being documented relentlessly in the news. But when she decided to join a group of fellow students at Fordham University to launch the Bronx COVID 19 Oral History Project, she found a reality not fully captured in the news, she says."
"In moments like these, a cynical person might think, 'Oh, people are going to be selfish' – resources are scarce, survival of the fittest, or whatever," says Ms. Fernandez. "But no, it was the complete opposite. People were willing to give, people willing to extend themselves, even if they may not have had that much to give or to extend."
In two dozen interviews with Bronx teachers, families, artists, and community leaders, people described a similar sense of energy, positivity, and resilience, says Mark Naison, professor of history and African and African American studies at Fordham, who advised the students.
"You know, we found all these people who were doing amazing things to help keep the community alive during this time," he says.
Read the full article by Harry Bruinius (@HarryBruinius) at The Christian Science Monitor.
---
STATEMENT OF SOLIDARITY AND COMMITMENT TO JUSTICE
Fordham's Urban Studies Program stands in solidarity with the Black Lives Matter movement and all the protesters demanding racial justice and an end to police brutality towards minorities across the country. We firmly believe that in a society, in which all are not free from oppression and injustice, no one is truly free. Therefore, we must all recognize our responsibility to work towards pointing out systemic inequality and racism throughout our country, and our institutions, as a first step toward ending and overcoming it.
"Until the killing of black men, black mothers' sons, becomes as important to the rest of the country as the killing of a white mother's son, we who believe in freedom cannot rest."

(Ella's Song, Bernice Johnson Reagon)
We strongly believe in the importance of confronting the past (and the present) for building a better and more equitable future, and we are committed to confronting existing racial injustice in our teaching and research.
---
Commencement message from Dr. Annika M. Hinze, Director of Urban Studies
Dear Class of 2021,
What a year it has been! We started out the academic year after a summer of social conflict, political failures, and pandemic uncertainty. And we did this mostly online – though some of you and your professors braved in-person classes, masked and socially distanced. "Socially distanced" – that is quite the term for a social scientist. It sounds like an oxymoron: Is it even possible to be social from a distance when we, as human beings, are so dependent on physical touch and social interaction? Well, we – you – somehow made it possible!
I can honestly say that I did not enjoy teaching remotely. I like to pace around the classroom, I like to use my arms and hands when I speak, I like to try and read the room that I am in. I like to get in the right mental state for my class on my commute to campus – first on the train, then on the bus, while watching the people and buildings change as I go, sipping my morning coffee. I am an urbanist, after all! I enjoy being in the City, with the City, of the City, on my way to work. None of that was possible on a Zoom screen, in a virtual work environment. Sometimes, I would get up from my desk for a late lunchbreak for the first time since the early morning and realize that I had not moved much further than ten feet from where I slept the night before. That depressed me. Yet, I was moved so many times by how much you, my students, got into the zone: you got passionate about the discussion topics, the readings, the comments of your classmates. You engaged, questioned, reflected. You even produced some research. That is, given the circumstances, no small feat.
It was not just the pandemic, the remote classes, the ever-changing case numbers and guidance about what to do that made this past year so tough to survive. It was also the human cost. What we lost. We lost loved ones. We lost acquaintances. And if we were lucky enough not to lose anyone we knew and loved, we lost time with them. Time that will not come back. We lost time to do what we love, whether that would have been time spend traveling the world, socializing with friends, or simply hugging our parents – it is lost forever, and it is ok to grieve that.
And then, on top of all that, we witnessed, felt, processed, grieved so many other things that happened on a social and political scale. After a difficult and more divisive election season than perhaps ever before, we witnessed a domestic attack on the U.S. Capitol with the explicit goal to dismantle the democratic mechanisms of our political system. And we continue to witness and confront the societal fact that our democracy is still not as inclusive as it promises to be. Despite their social, cultural, economic, and political contributions, people of color are still not afforded the same privileges in our society. We continue to witness violence against black and brown bodies, and targeted attempts to exclude them from the democratic process. Many of these tensions and grievances boiled over in the midst of a pandemic that disproportionately affected black and brown Americans who continue to live and work under less safe, healthy, and fair conditions than white Americans. We witnessed targeted hatred and violence against Asian Americans in connection with the pandemic. Many of you may have personally felt the effects of those events and injustices.
Just because the infamous year of 2020 and the oh-so-very-strange 2020/21 academic year are over does not mean we are out of the woods. As a society, we have much work to do. As individuals, we may have just received our COVID vaccines and started to emerge from our social isolation, breathing in the spring air and admiring nature's reawakening all around us, taking stock of what we have lost, and how to move forward.
I have always loved the term Commencement. In many other languages, we just speak of Graduation, but Commencement is so much more powerful, because of what it implies: Finishing your degree is not the end – it is the beginning. The beginning of a new chapter. As we emerge from the pandemic into so much uncertainty, we also have the ability to start anew. To write a new chapter. All the grief and pain from last year should not be something we are merely leaving behind. Instead, maybe we can use it to inspire this new start. To do better. To rebuild.
You have all shown so much capacity for resilience, creativity, and love in getting through the pandemic, finishing your studies, and living gracefully through so much loss. You give me so much hope for what is possible, and you make me so proud of what you have accomplished. As the next generation, you are badly needed!
With all my heart – congratulations on an amazing achievement, Class of 2021!
Annika Marlen Hinze, Ph.D.
Associate Professor, Department of Political Science
Director, Urban Studies Program
Fordham University
---
---
A New York Legislator's Take on the Protests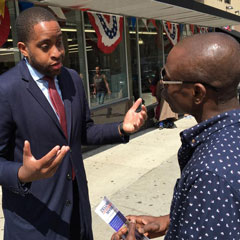 from wync | the brian lehrer show:
Fordham Urban Studies alumnus Zellnor Myrie, New York State Senator (D-20), talks about his experience getting pepper sprayed at a protest last weekend, and discusses laws he hopes to pass that would help change the justice system and reform policing.
Listen on wync.org The Brian Lehrer Show.
---
Built Heritage special issue on Shanghai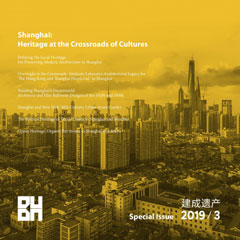 A new special issue of Built Heritage, "Shanghai: Heritage at the Crossroads of Culture," is edited by Fordham Professor of History Rosemary Wakeman. The journal is published by the College of Architecture and Urban Planning at Tongji University in Shanghai.
from wakeman's introduction:
Shanghai is among the most dynamic global cities of both the 20th and 21st centuries. The city is China's gateway to the world and its aspirations for the future. With more than 24 million people, 40 percent of whom are migrants, it is a global crossroads and one of the most multicultural cities in the world. It has more skyscrapers than New York and a public transport system that overtakes most global cities. Shanghai is a trading city, an entrepot of commodities. It exports electronic information products, automobiles, petrochemicals, fine steel, equipment, and biomedicine. It has the highest GDP of any city in China's mainland and has become one of the leading financial sectors in East Asia, with major Western banks flocking to its new financial centre. With well over 500 multinational companies, the city attracts more foreign investment flows than most developing countries. Along with them has come a highly-skilled workforce from all over the world. Shanghai's urban middle-class has fuelled China's consumer revolution and a property boom. Sleek skyscrapers and glamorous malls, its brilliant skyline, dominate the global image of Shanghai and beckon tourists to its shores.
• Rosemary Wakeman, "Shanghai and New York: Mid-Century Urban Avant-Gardes"
Read more at Built Heritage.
---
Mapping Conference Tackles Justice Issues from a Geographic Perspective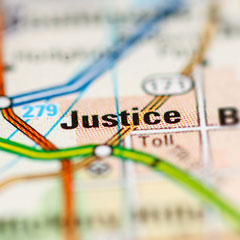 from fordham news:
In a three-day symposium titled "Mapping (In)Justice," dozens of scholars came to Fordham's Lincoln Center campus from Nov. 7 to Nov. 9 to examine how digital mapping is being used by academics as a methodology to study justice and injustice, particularly when researching underserved communities.
Gregory Donovan, Ph.D., assistant professor in the Department of Communication and Media Studies and co-founder of the Fordham Digital Scholarship Consortium, organized the conference with department chair Jacqueline Reich, Ph.D.
"Spatial media have politics, these are not neutral things," said Donovan, who teaches a course of the same name as the conference for the Masters in Public Media. "We need to look at how our subjects are using digital mapping in their own lives and not just use this technology to study them from afar, like a scientist with a clipboard."
Read the full article by Tom Stoelker at Fordham News.
from m(i)j project gallery:
A Fine and Fertile Country: How America Mapped its Meals, Lena Denis & Danielle Brown, Harvard Map Collection.
Counter-Mapping Evictions in NYC, Manon Vergerio, Ariana Allensworth & Ciera Dudley, Anti-Eviction Mapping Project.
Durham Health Indicators Project, Tim Stallmann, Research Action Design, & John Killee, DataWorks NC.
Participatory Mapping to Reduce Urban Risk in Lima, Rita Lambert, The Bartlett Development Planning Unit, University College London.
Recalibrating Queens: Re(sident)-centering the development debate in LIC, Kristen Hackett, The Graduate Center, CUNY.
Screening Surveillance: Mapping, Monitoring, and Future-Ing Big Data Surveillance, sava saheli singh, University of Ottawa.
Siege of Antioch Project, W. Tanner Smoot & Douglass Hamilton, Fordham University, Center for Medieval Studies.
ToxiCity: Mapping Pollution in North Brooklyn, Jesse Braden, Spatial Analysis and Visualization Initiative, & Anthony Buissereth, North Brooklyn Neighbors.
unARchived, Abraham Avnisan, Kent State University, Christian Anderson, University of Washington Bothell, & Amir Sheikh, Independent Scholar.
---
Congratulations NYS Sen. Zellnor Myrie, District 20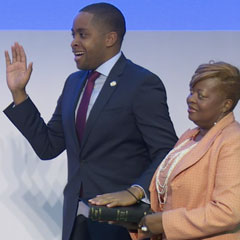 from bklyner:
Urban Studies alumnus Zellnor Myrie celebrated his inauguration in East Flatbush on Monday, February 11, 2019, before a host of electeds and constituents where everyone spoke to a new senatorial district 20.
After graduating from Brooklyn Technical High School, the 32-year-old attended Fordham University and then Cornell Law School. He was joined on stage by his mother, Marcelina Cummings, who was a staunch supporter of the lawmaker's senatorial bid. Cummings came to the states from Costa Rica and worked as a factory worker initially.
"We must follow the command to be courageous," said Myrie. "The problems that are facing our communities cannot be solved with the same solutions of yesterday. They require us to be courageous in our aspirations."

"We will be bold in our actions and we will be bold on how we attack them," said Myrie on how he's looking to tackle the issues plaguing the community, including housing and homelessness."
"Think about what he's already accomplished," said NYC Comptroller Scott Stringer who was also in attendance. "Early voting, early voting—the consolidation of state and local primaries — I'll give you a fact as comptroller— that's a savings of $50 million that can go to education and healthcare and housing. That's what he did".
Read the full story at Bklyner.
---
What Makes a Great City Tick?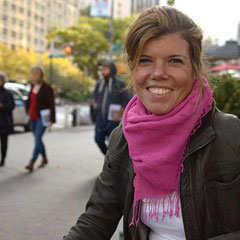 Director of Urban Studies, and Professor of Political Science, Annika Hinze, is researching the best practices for making cities just, fair, and equitable for all.
"If you go into communities and interview people who live in what we call gentrifying communities, a lot of them welcome the changes in the neighborhood. Everybody wants to live in a nice neighborhood, with good infrastructure, and good schools that come with gentrification. It's just that the residents want to stay in the neighborhood once it turns."
Because cities are growing in importance around the globe, Hinze said she's eager to continue partnerships with institutions in Pretoria, Berlin, and Amsterdam, and recruit more international students to study in New York. Closer to home, courses like The Urban Lab, which is being co-taught this semester by former urban studies director Rosemary Wakeman, Ph.D., professor of history, and Fordham Law's Sheila Foster, exemplify the way the urban studies degree is truly interdisciplinary.
Read the full story by Patrick Verel at Fordham News.
---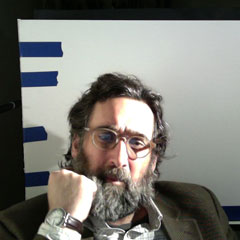 Mark Street Defends the Art of Street Photography in Filmmaker Magazine
Mark Street, writer, filmmaker, and Assistant Professor of Film in the Visual Arts Program at Fordham, defends his craft in an article for Filmmaker Magazine: "In Defense of Street Photography in an iPhone Age."
"Oddly, as filming in one medium (the cellphone) has become ubiquitous, people seem to fear the semi-professional more and more. A professional film shoot ascribes to standards — releases are signed, tacit agreements are made, those filmed understand the scope of the project. As someone who works alone (without a crew that creates a kind of picture a passerby might be able to understand) I often find myself at pains to explain myself."
Read the full article at Filmmaker Magazine
---