Master of Arts in Urban Studies
Transform Your World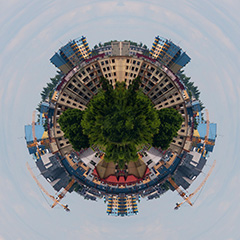 Cities around the globe are facing complex issues in need of creative solutions. At Fordham, our solutions-oriented interdisciplinary program will prepare you to tackle the challenges confronting urban society in a range of areas:
Economic development
Inequality and social justice
Public health
Environment and sustainability
Urban arts and creative industries
Historic preservation and gentrification
Technology and the development of "smart" cities.
With New York City as our main laboratory, you'll design a unique course of study tailored to your own interests. You'll engage in fieldwork with real-world implications and emerge with a nuanced understanding of the powerful forces that are shaping our cities, as well as the problem-solving skills required to improve the quality of life for their citizens.
Program Highlights
Flexible, interdisciplinary program shaped by student interests and career objectives
Strong foundation in applied research methods and contemporary urban issues
Research and study abroad opportunities with our international partner universities
Opportunity for fieldwork with public agencies, community nonprofits, museums, architectural and engineering firms, economic development corporations, and more
Curricular Practical Training is available to F-1 students
Program Basics
Designed as a 16-month program (three to four semesters for full-time students)
Curriculum requirements include three core courses, seven elective courses, fieldwork, and the completion of a master's thesis for a total of 36 units.
Master's thesis topic is directly tied to research and fieldwork
Classes held in the evening to accommodate fieldwork
Careers
City and regional planning
Real estate
Historic preservation
Education
Public administration
Environmental regulation
Urban renewal and design
Housing development agencies
Business improvement districts
Economic development corporations
Museums
Nonprofit cultural and arts institutions
Learn more about how a master's degree in urban studies can help you in your career.
---
Urban Consortium Lunch with Erik Brown
The Urban Consortium will host its first post-pandemic in-person lunch on Monday, October 30, from 12:30-2pm at the Law School.
Erik Brown
, Civic Innovation Lab Manager at
BetaNYC
and Fordham alumnus, will join us for lunch, and we look forward to getting to know more about his work and think about opportunities for collaboration.
BetaNYC
has already done a number of interesting and fruitful collaborations around education and data, so this will be a great opportunity to get to know more about their work.
We hope you will be able to join us for a great lunch and conversation!
---
Introducing Vojislava Cordes
Vojislava Filipcevic Cordes holds a Ph.D. in Urban Planning, with concentrations in Sociology and Political Science, from Columbia University. She was a Paul E. Raether Postdoctoral Fellow in Urban and Global Studies at Trinity College and a Research Associate to the late Dr. Benjamin Barber at Urban Consortium, Fordham University. She is the author of New York in Cinematic Imagination: The Agitated City (Routledge: London and New York, July 2020) and is currently completing a forthcoming participant-observation and theoretical research study on The Politics of Sanctuary.
Filipcevic Cordes has published in Critical Issues in Justice and Politics, Planning Practice and Research, Urban Science, Journal of Urban Affairs, Critical Planning Journal, Journal of Urban Cultural Studies, Quarterly Review of Film and Video, Jump Cut, Culture, Theory and Critique, Columbia Journal of American Studies, Film Criticism, and Cineaste. She has furthermore published a chapter on the right to the city and right to sanctuary in the Sustainable Development Goals book series entitled "Transitioning to Reduced Inequalities" (eds. Sabin Bieri and Christoph Bader).
Filipcevic Cordes is currently teaching Comparative Urban Policy at Columbia University SIPA. She joins Fordham University as Associate Director of Urban Studies.
---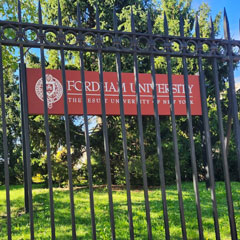 New York Universities, It's Time to Tear Down That Wall
By Brian Martindale, Fordham Urban Studies
from Gotham Gazette:
"New York universities are walling people out. Major private institutions across the city are surrounded by gates, but not because they are in the most dangerous neighborhoods. Rather, it appears that largely white student bodies are being walled off from their surrounding communities because of unfounded fear of racial others.

Columbia University, in a neighborhood adjacent to Central Harlem, is blockaded on every side with a security force keeping watch on all who enter its narrow gates. St. John's University, in Queens' Hillcrest neighborhood, is peppered with turnstiles, gated parking lots, and signs marking it as "Private Property." Fordham University's Rose Hill campus in the Bronx is similarly locked-down, separated from the surrounding community by wrought iron and chain link fences, at places with barbed wire and stone walls. The only way in, with few exceptions, is by scanning a school ID past a staffed security booth or full-height turnstiles.

Standing in contrast is New York University, located in Manhattan's Greenwich Village. NYU is a decidedly urban campus, built into the fabric of the city, with the public Washington Square Park serving as its primary quad.

What makes NYU different? Gut instinct might suggest NYU is in a safer neighborhood so it doesn't need a gate. But it turns out the universities that believe they need to wall out crime are actually in safer communities."
Read the full article by Brian Martindale at Gotham Gazette.
---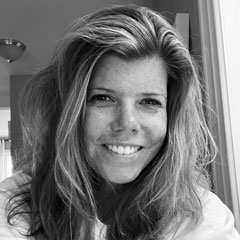 Annika Hinze Appointed as New IPSR Editor
from ipsa.org:
Annika Marlen Hinze, Associate Professor of Political Science and the Director of the Urban Studies Program at Fordham University, has been appointed as co-editor of the International Political Science Review (IPSR).
Dr. Hinze's research and teaching focus on urban politics, immigration policy, democratic theory, and qualitative and mixed methods research. Hinze is also interested in housing, transportation, and sustainability policy in cities. Her first book, Turkish Berlin: Integration Policy and Urban Space (University of Minnesota Press, 2013), compares integration policy and lived integration of second-generation Turk-German women in two Berlin neighborhoods. She is also the co-author (with Dennis R. Judd) of the 10th edition of City Politics: The Political Economy of Urban America (Routledge 2018), as well as the 11th edition, newly entitled City Politics: Cities and Suburbs in 21st Century America (Routledge 2022), and co-editor (with James M. Smith) of the forthcoming 8th edition of American Urban Politics in a Global Age (Routledge, forthcoming). Hinze has published articles in the Journal of Ethnic and Migration Studies, PS: Political Science & Politics, Studies in Ethnicity and Nationalism, and co-edited a special issue on "North American Urban Politics" in the journal Urban Research and Practice (2013). Her current research focuses on gender equality in academia, the lasting impact of the COVID-19 pandemic on cities in policy framing and practice, sustainability policy and planning in American cities, urban neighborhood change, and democratic institutions. Dr. Hinze has done field research in Canada, Germany, Turkey, and the United States and is an Associated Researcher at the Center for Metropolitan Studies at TU Berlin.
Read the announcement at ipsa.org.
---