Urban Studies Undergraduate Program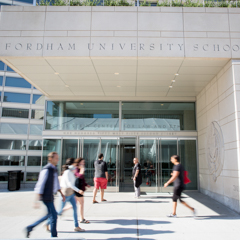 Designed as an interdisciplinary program, the urban studies major offers a broad introduction to the city and the urban environment. Students combine course work and research on urban issues with hands-on experience in New York City as well as other American and international cities. The curriculum prepares majors for graduate school and professional programs in teaching, social work, public policy, architecture and urban planning as well as for careers in government service and community development, the non-profit sector, journalism and law.
The major in urban studies is available at Fordham College at Rose Hill and Fordham College at Lincoln Center. Students in the Fordham School of Professional and Continuing Studies may major in urban studies only if their schedules are sufficiently flexible to permit them to take day courses at the Rose Hill or Lincoln Center campuses.
---
Congratulations Catherine Kien and Sarah Thompson!
Recipients of the 2022/23 Trinity Financial Fellowship
The Trinity Financial Fellowship supports the academic research of outstanding Urban Studies undergraduate majors at Fordham University as they complete their senior internship and thesis.
Participants in the Trinity Financial Fellowship produce senior theses related to social and economic concerns, community and cultural initiatives, the built environment and environmental justice.
Current Fellow Insights
Catherine Kien
"Hi, my name is Cat! I'm a senior at FCRH studying Urban Studies and Sociology, and I was born and raised in the Bronx. I'm interested in community outreach and social work, and I'm currently a youth organizer with Mekong NYC, which serves Vietnamese and Cambodian community members in the Bronx.

Through my senior thesis, I aim to explore the "School-to-Prison-to-Deportation Pipeline," and analyze data related to urban schools, police presence in urban communities, and the life outcomes of Southeast Asian refugees. My investigation would highlight the ways in which police violence–in addition to unsustainable welfare, mental health challenges, and limited social support–impacts refugees' ability to settle into their urban communities. I would like to specifically highlight the experiences and conditions of individuals who live in urban sanctuary cities in order to observe how Southeast Asians are actually protected from this systemic violence and potentially deportation."
Sarah Thompson
"My thesis will explore the housing affordability crisis and the climate crisis, posing green building as a remedy to both cases. I plan to study housing solutions in the Bronx, a borough that faces disinvestment and speculation in its housing stock. By collecting data and conducting interviews to examine the efficacy of green building through a social housing model lens, I hypothesize both affordability and health for tenants will improve, while poor housing quality and displacement of residents that arise from disinvestment will be disrupted."
---
In Bronx and beyond, the pandemic revealed resilience
from the christian science monitor:
"When Bethany Fernandez first began to document oral histories in the Bronx during the pandemic, her own life was "chaotic," she says – her familiar routines upended, her days confronted with fear and uncertainty.
But the past year and a half has become, almost in a strange way, a time of profound personal growth and self-discovery, says Ms. Fernandez, a lifelong resident of the Bronx, a borough of New York City.
The communities surrounding her were among the most afflicted in the country, and they were being documented relentlessly in the news. But when she decided to join a group of fellow students at Fordham University to launch the Bronx COVID-19 Oral History Project, she found a reality not fully captured in the news, she says."
"In moments like these, a cynical person might think, 'Oh, people are going to be selfish' – resources are scarce, survival of the fittest, or whatever," says Ms. Fernandez. "But no, it was the complete opposite. People were willing to give, people willing to extend themselves, even if they may not have had that much to give or to extend."
In two dozen interviews with Bronx teachers, families, artists, and community leaders, people described a similar sense of energy, positivity, and resilience, says Mark Naison, professor of history and African and African American studies at Fordham, who advised the students.
"You know, we found all these people who were doing amazing things to help keep the community alive during this time," he says.
Read the full article by Harry Bruinius (@HarryBruinius) at The Christian Science Monitor.
---