Trinity Financial Fellowship in Urban Studies
The Trinity Financial Fellowship supports the academic research of outstanding Urban Studies undergraduate majors at Fordham University as they complete their senior internship and thesis.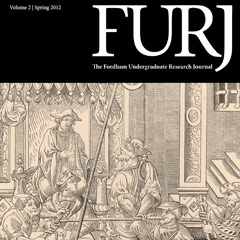 Participants in the Trinity Financial Fellowship produce senior theses related to social and economic concerns, community and cultural initiatives, the built environment and environmental justice. The project culminates with student presentations at the Spring Undergraduate Research Symposium. The projects will be published in the Fordham Undergraduate Research Journal.
Eligible students must be entering their senior year.
Questions regarding the Fellowship should be directed to Professor Annika Hinze, Trinity Financial Fellowship Advisor by email at [email protected].
Current Fellow Insights
Catherine Kien
"Hi, my name is Cat! I'm a senior at FCRH studying Urban Studies and Sociology, and I was born and raised in the Bronx. I'm interested in community outreach and social work, and I'm currently a youth organizer with Mekong NYC, which serves Vietnamese and Cambodian community members in the Bronx.

Through my senior thesis, I aim to explore the "School-to-Prison-to-Deportation Pipeline," and analyze data related to urban schools, police presence in urban communities, and the life outcomes of Southeast Asian refugees. My investigation would highlight the ways in which police violence–in addition to unsustainable welfare, mental health challenges, and limited social support–impacts refugees' ability to settle into their urban communities. I would like to specifically highlight the experiences and conditions of individuals who live in urban sanctuary cities in order to observe how Southeast Asians are actually protected from this systemic violence and potentially deportation."
Sarah Thompson
"My thesis will explore the housing affordability crisis and the climate crisis, posing green building as a remedy to both cases. I plan to study housing solutions in the Bronx, a borough that faces disinvestment and speculation in its housing stock. By collecting data and conducting interviews to examine the efficacy of green building through a social housing model lens, I hypothesize both affordability and health for tenants will improve, while poor housing quality and displacement of residents that arise from disinvestment will be disrupted."
Past Fellow Research
Lara Cochran
"My thesis will focus on the ways that spatial inequality manifests itself within education, how these patterns are exacerbated in metropolitan areas, and the long-lasting effects they can have, including perpetuating other systemic injustices. I plan to look specifically at schools and educational organizations within the Bronx community and New York City area to see how they are affected and what action is being taken to combat these injustices. I will evaluate the efficiency of these strategies through data and testimony, with the intention of promoting awareness about the policies and unequal distributions of power that influence education. Ultimately, I hope to advocate for the support of successful initiatives that are working to cultivate educational equity."
Erin McNally
"I am writing my senior thesis on the criminal justice system and its rehabilitation processes in the context of the growing 1099 economy and fissured workplace. I will look at disenfranchised and marginalized groups of previously incarcerated individuals, including how they navigate this new economy, specifically in the frame of race, class and gender. I also hope to focus on the effects of government policies and institutions that target these individuals and families, including the welfare and housing systems. Through the data collection of reports and interviews, I hope to expose the systems of injustice and explore innovative rehabilitation methods that organizations and previously incarcerated individuals are using to circumvent these processes."
Agata Naklicka
"I am exploring environmental issues affecting slum / low-income housing in Dhaka, Bangladesh. Through my analysis, I hope to highlight issues of climate injustice and the detrimental consequences that climate change will continue to have on developing cities that may have fewer resources for climate adaptation and mitigation. This research will also expand my own knowledge on housing issues globally, and both contrast with and complement my work and internship experience with housing in New York City."
Featured Scholarship
---
Kate Sutter, "Effects of Diel Cycle on Observed Behavior and Abundance of the Southern Stingray, Dasyatis americana," FURJ, vol. 4 (2014): 16–20.
Stephen Erdman, "Reclaiming a Cultural Identity: Ghanaian Hip-Life and the Bronx," FURJ, vol. 3 (2013): 48–54.